View
Image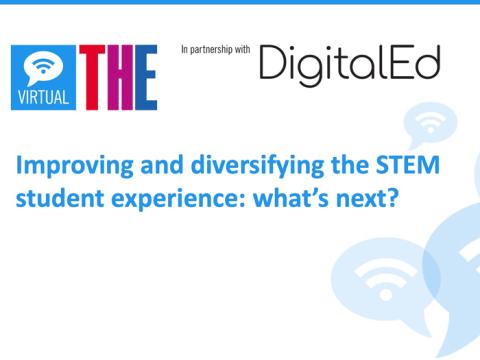 Main text
The necessity for remote digital course access during the pandemic has accelerated asynchronous learning and set the path for the future of higher education. For STEM subjects to be taught successfully, design is key, a panel heard at a Times Higher Education webinar held in partnership with DigitalEd, an online learning company.
Mark Schofield, dean of learning and teaching at Edge Hill University, told the panel that purposeful design must be behind every decision when planning for asynchronous learning. He explained that the fundamental question educators must ask themselves is, "What is it we want students to learn and what type of asynchronous learning will support that?
Schofield warned that creating an online information dump "where students go and navigate the unnavigable" will result in disengagement. Responsive and inclusive communication channels are also vital, he said. "The worst asynchronous work I've experienced is where there's no moderation and no tutor presence. The evidence suggests that if there's no presence, then the students' engagement drops right off," he explained.
Communication and data analysis can work in tandem, Louise Krmpotic, vice-president of enterprise services at DigitalEd, told the panel. "Getting immediate feedback to students is important so that they have a chance to ask questions when they're still learning," she said.
"From the instructor's point of view, getting those grades immediately allows them to look at the material and see if there are certain questions that the entire class didn't do well on. They can determine whether there was an issue with the question." The ability to react quickly and patch in updates to recorded lectures and course materials was cited as another effective way to continually improve universities' offerings.
The increase in available data also enables students to benchmark themselves, and their progress can be monitored and discussed with a tutor, said Robert L. Allan, director of teaching and learning at the School of Applied Sciences of the University of Huddersfield.
Allan noted that asynchronous learning, when planned correctly, promotes engagement by students in their own time, which increases inclusivity and accessibility. The opportunity for anonymity is also appealing to some students, Allan said. "It can draw people in that possibly would not ask questions in a face-to-face environment."
The rise in the use of technology since the pandemic has been positive for both students and faculties, Schofield said. The subsequent increase in digital literacy will now lead to a demand for high-quality platforms, he explained, adding that this will result in refinements to the types of products in which universities invest.
While information sharing is being refined online, there are still the practical aspects of STEM subjects to consider. Allen explained, "There are some challenges with STEM subjects in that they are very practical, and the technology is not quite there yet for virtual labs to give the real experience that you would get in a normal laboratory." He added that STEM students are typically most enthusiastic about practical classes, so despite advancements in the likes of haptic feedback technology, students will likely continue to relish practical lessons and thrive among the community of their peers.
The panel:
Robert L. Allan

, director of teaching and learning, School of Applied Sciences, University of Huddersfield

Julia Gilmore

, content manager, Europe and the Americas, Times Higher Education (chair)

Louise Krmpotic

, vice-president of enterprise services, DigitalEd 

Mark Schofield

, dean of learning and teaching, Edge Hill University
Find out more about DigitalEd.
Standfirst
Science, technology, engineering and mathematics courses need platforms and channels that support student feedback and learning communities