View
Image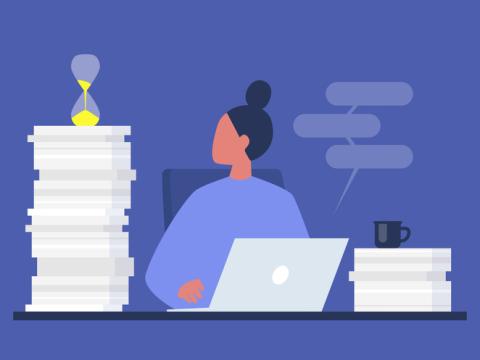 Main text
For a young teacher, a heavy class workload can put great pressure on their capacity to carry out research. Without years of teaching experience to draw on, it takes a lot of time to prepare lessons. Research, meanwhile, requires time for scholars to immerse themselves in thought and reading. The competing demands of this teaching burden and scientific research can even lead some young scholars with great potential to abandon their research. And that is a pity.
Establishing a sustainable workload can seem challenging, but it is key to success and progression as an academic and faculty member.
So, how can a scholar new to teaching find the right balance between teaching and research? Here are tips to help you. They can be adapted to suit your circumstances and commitments.
1. Plan for pressure points
Organisation is key to successfully mixing teaching with research. Create a clear plan that includes teaching and research commitments and manageable deadlines for each task you need to complete.
I write a summary every week and month of what I am doing and where I want to be in 12 months' time. For example, there will be peak times in the academic year when teaching must be the focus and other commitments take a temporary backseat. Updating a diary like this will enable you to effectively identify key pressure points, so you can better plan and use your time.
2. Allocate and track your time carefully
To understand how you are spending your time and if you are using available hours efficiently, you can track your daily tasks and activities. This could provide useful insight, which can then be used to inform how to allocate your time in the future.
Ensure you are assessing the value of the tasks you are performing and look at what is important versus what is urgent. Never forget to prioritise your workload. I always turn off my emails while I am performing research, for example.
One way to dedicate your time efficiently is to give yourself specific time slots for research. This could include having dedicated days for research, as recommended by most faculty members. Usually, I make long-term plans as well as short-term ones. For example, I scatter my scientific research time among teaching periods. Last semester, my courses were on Saturday, Monday and Tuesday, so I took Wednesday to Friday as the fixed times for reading literature. In this way, I can conduct my research when there are no classes in summer.
Although you will want to stay focused on the task, you should be flexible, too, as this will help you to continually prioritise as needed.
3. Collaborate with colleagues and students to reduce your workload
Collaboration with both colleagues and students can be a useful time-management tool. In my class, for example, I select students to act as teaching assistants; they are responsible for setting and receiving homework and calculating scores for me. The class is also divided into groups, and each group elects a group leader to take charge of students' daily study. In this way my daily courses can be managed in less time. Each group will also put more effort into their own results.
Involving students in scientific enquiry – in research – is also a way of improving their learning and motivating them. After all, what motivates large numbers of academics is engaging in the excitement of research.
Bringing research and teaching together is a way of enhancing the motivation of both academics and students. It is important to work with people who motivate you and who you can ask for advice.
4. Ask for help
Of course, there are times when I am torn between teaching and research. An important part of ensuring you balance your time is being able to ask for help when you need it. This includes having the confidence to be honest with management about what your needs are. Although asking for help can seem daunting (and speaking up is a skill that you might need to learn or work on), it can be a powerful tool to help get the job done faster or better and can benefit all those involved.
When I was a new teacher, I always asked for specific advice and support with regard to research – for such tasks as proposal planning or navigating funding guides – or for teaching (for example, how to teach large lecture classes).
I prioritise my courses because I think it is the teacher's responsibility to teach and to be responsible to the students. At the beginning, I sometimes gave up some of my life. For example, last semester, I made a plan to take one day off every week. At busy times, if I can't take care of both, I will definitely seek help from experts. For example, I will write an email to my tutor and ask him to recommend some readings, which saves me a lot of time. I also regularly invite experts to give lectures to enrich and improve my course.
5. Capitalise on your deep understanding and passion about your field
Make use of your passion for your area of research. If you can focus on something that gives you a feeling of growth, that in turn will provide growth. Focusing on something that you are not inspired by or even resent will not push you to learn new skills or continue improving yourself, which will create a struggle in terms of finding a balance. 
Knowing how to prioritise where you focus your attention will affect your success at being able to balance teaching and research. Proficiency in both is needed for the university to fulfil its mission and obligations to students and to society. Universities with faculty engaged in state-of-the-art research, leading-edge discovery and creation of new works are able to attract students seeking access to those opportunities as part of their university experience.
As a young teacher, I needed to face the situation and take proper action. You will, too.
M. C. Zhang is assistant professor and Aliana Leong is dean and professor, both at the School of Liberal Arts at Macau University of Science and Technology.
If you found this interesting and want advice and insight from academics and university staff delivered direct to your inbox each week, sign up for the THE Campus newsletter.
Standfirst
Research and teaching are two sides of the knowledge coin: creation and dissemination. How do young scholars learn to balance these fundamental roles?