View
Image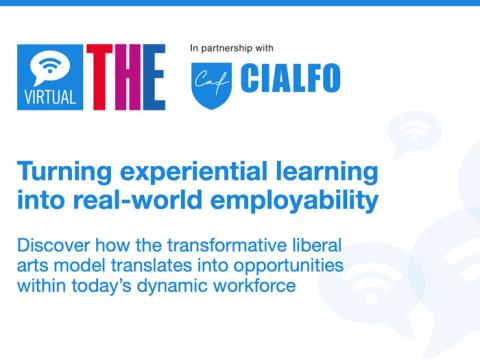 Main text
Liberal arts colleges are adapting to the demands of industry and students. At a Times Higher Education webinar, hosted in partnership with Cialfo, the network where international students, their counsellors and families connect with higher education institutions worldwide, college presidents shared how they made employability a priority without sacrificing their ethos.
Two challenges that colleges face are preparing students for roles that don't yet exist and the relevance of their education when they graduate, said La Jerne Terry Cornish, president of Ithaca College.
Jeffrey Docking, president of Adrian College, added that due to increasing concerns around student debt, students now consider whether college will provide a good return on their investment.
Kent Devereaux, president of Goucher College, said this has made employability "an ethical obligation". He said Goucher approaches employability in three ways: majors in emerging fields, an internship accelerator with "micro internships", and links with other universities. 
The panel agreed that experiential learning and the chance for students to safely "fail forward" by trying fields that might be of interest is vital. 
Docking explained Adrian College's three-day "externships" help forge pathways. "Every time students do an externship or an internship, they're making connections and networking. Especially for international students, this is incredibly important." Docking expects that after graduation, students will reconnect with their contacts to explore professional opportunities.
Presidents and faculties are also forging connections with industry players. For Adrian College's Rize Education initiative, the college launched 17 new majors and approached industry for guidance. For its computer science curriculum, Adrian College consulted Google. Docking said their students stand out to Google because they're excelling in a curriculum Google helped design. This was repeated across industries.
Specific competencies are important, but Devereaux said a holistic liberal arts education provides a spread of in-demand skills not found in rote learning approaches. Devereaux asked head recruiters at Lucasfilm, DreamWorks and Pixar about their demands. "All three of them said they were looking for the ability to tell stories and an understanding of history," he said. "The other thing we heard repeatedly was the ability to work with others, the ability to collaborate with people in diverse teams and be able to communicate and collaborate."
"Students are transdisciplinary walking in the door, so they expect us to be interdisciplinary in our offerings," Cornish said. "There's something to be said for professional education when combined with the liberal arts and sciences. We want to educate, engage and empower through theory, practice and performance."
Size matters in the liberal arts offering, the panel agreed. Their intimate communities still allow for personalised letters of recommendation direct from the president. The panel are all working to develop their alumni offerings, continuing the community feel of campus and to help alumni nurture students' entry to careers. 
Cornish added that video communication tools such as Zoom allow students easy access to Ithaca alumni. Due to an increase in the need for lifelong learning and evolving job roles, colleges such as Ithaca will welcome alumni for the rest of their lives, as and when new skills are needed.
Identifying crossovers is also important, the panel said. "We're trying to find those areas where the liberal arts ethos and STEM overlaps, like bioethics or the ethical issues involved in artificial intelligence. These are issues that we're all going to have to confront," Kent said.
The Panel:
La Jerne Terry Cornish, president, Ithaca College
Kent Devereaux, president, Goucher College
Jeffrey R. Docking, president, Adrian College
Alistair Lawrence, head of branded content,

Times Higher Education

(chair)

Felicja Syska, vice-president for university engagement, Cialfo
Watch the webinar on demand above or on the THE Connect YouTube channel.
{cta}
Standfirst
Experiential learning, dialogue with corporations and strong alumni links are guiding liberal arts colleges in a new era of employment-focussed students