View
Image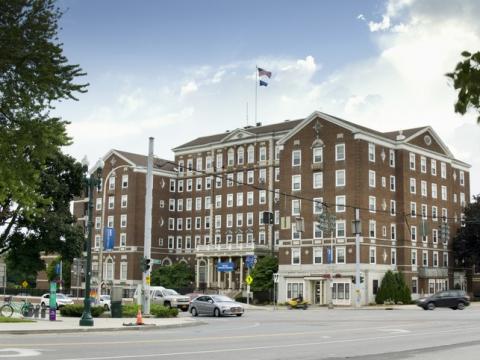 Main text
As an immigrant to the US, I've been disheartened by the increasingly fractured relationship between government and civil society in this country.
The facts are startling about the chasm we must bridge to restore faith in democracy. Barely half of Americans can name all three branches of the government (and that is a 10-year high), and 30 per cent of young people are open to non-democratic forms of leadership. That's not to mention the alarming number of US citizens who still believe that November's election was fraudulent.
This is, in no small part, reflective of a failure of our education system to ensure that students are prepared to participate in a representative democracy. And it's led to a period of deep soul-searching for all Americans – a moment that has been profoundly disturbing for those who have dedicated their lives to educating the next generation of society's leaders.
Much ink has been spilled about the role of liberal education in supporting the development of civically engaged minds and citizens. But the truth is that we too often assume that civic education stems from the ivy-covered walls of elite institutions of higher education and bastions of the liberal arts.
Far too often, we ignore the critical role of the community colleges that nearly half of all undergraduates attend. And given President Biden's recently announced plan for a historic investment in the country's community colleges, we need to recognise just how important they are to the intellectual fabric of the country.
There is something unique about the community college experience. The country's big cities and small towns are dotted with two-year institutions that exist to serve their communities, providing students with entryways to career opportunity − not to mention a much-needed engine for local economic growth. What we don't talk about as often is that they are, for so many students, the crucible of their own political and civic education.
It gives me no pleasure to say it, but we have to rid ourselves of the elitist assumption that students at community colleges are any less inquisitive or civically engaged − or that community college educators are any less committed to providing a meaningful civic education.
In fact, colleges such as Miami Dade, where I'm president emeritus, are in some ways pioneering approaches to enquiry-based learning that have for too long been confined to small classrooms in Gothic halls of academe. And even as the pandemic has made substantive in-person discussion nearly impossible, the institutions that we so often think of as cash-strapped are using technology and ingenuity to make critical thinking opportunities more accessible than they've ever been.
Consider, for instance, the work of our social science professor Kim Coffman, who is implementing a tool called Packback to foster enquiry-based discussion online, focused on topics as thorny and provocative as genocide and mass violence. Together with her students, she's developed a "student contract" for civility and constructive dialogue rooted in principles of open expression and a commitment to anti-racism.
Kim is also a part of Miami Dade's Institute of Civic Engagement and Democracy, which for the past two decades has spearheaded service programmes and partnerships designed to engage students directly and meaningfully with the local community.
In the age of "doom scrolling" and social media trolls, this sort of enquiry-driven learning is more important than ever, but it's sorely missing from today's civic discourse. Instead, we tend to take the easy way out, demonising those with whom we disagree and focusing on that which alienates us from each other rather than the commonality that we are far more likely to see face to face.
We fail as a society if we treat civic education as a luxury rather than an essential public good that must be nurtured at all types of institutions.
If we are to believe that the purpose of higher education is to deliver on the democratic promise of social and economic mobility – as surely we must – then we ignore the pivotal importance of community colleges in civic education at our own peril.
Students who are civically engaged are more successful in school and work, better informed and, perhaps most importantly, more satisfied with their own lives, because they see the end goal and the value of their contributions. Critically, enquiry in the classroom connects to engagement in the community. The students whose minds we seek to inspire on campus become the architects of the policies and practices that shape the future of US society.
As troubling a moment as we're in for the health of US democracy, new resolve may be in the offing among our educators. Today can be a watershed moment in the history of the community college movement. And that's an opportunity we must seize. At a time of rampant disinformation, community colleges can be the engine of enquiry, autonomy and purpose that will enable the next generation to rebuild our democracy.
Eduardo Padron, a recipient of the Presidential Medal of Freedom, is president emeritus of Miami Dade College.
Standfirst
At a time of rampant disinformation, these two-year institutions can be the engines of enquiry and purpose that enable the next generation to rebuild our democracy, says Eduardo Padron