View
Image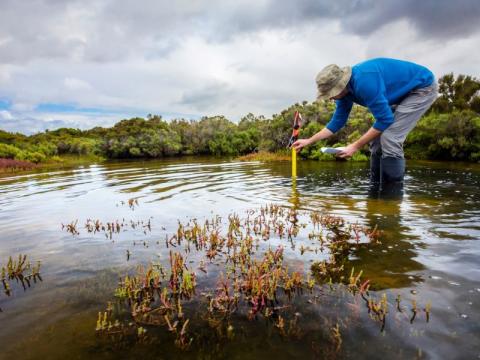 Main text
Ask any researcher who has recently returned from fieldwork, and they will likely tell you about an ethical dilemma they faced there. They will probably say that they weren't adequately prepared for it.
Irrespective of academic discipline, when researchers are away from their desk and interacting with people in various roles, issues come up where values-based decisions must be made – and made quickly. Even in the physical sciences when research is not focused on human participants, uneven power relations may exist among researchers and communities or collaborators. This requires an understanding of how to navigate these imbalances ethically, flexing to different situations.
Institutions fail to adequately facilitate ethical research fieldwork. So, we set out to develop a code of conduct to support researchers towards excellence, ethics and welfare in fieldwork. What started out as a simple task turned into a vast undertaking, stretching beyond the realm of our university. This reflected how important and needed the code is.
Here, we share how we developed the code, what went well and what we learned along the way.
From activism to action
The idea for the code of conduct came from anti-racism activism within the School of Geography and the Environment at the University of Oxford. Following the murder of George Floyd and the eruption of the Black Lives Matter movement, a collective of graduate students, including co-author Laura Picot, proposed to the department a "template for change" to dismantle systemic racism. This kick-started a wave of action, including commissioning and funding this code of conduct. 
We set out to develop a code of conduct for anti-racist practice in geography research fieldwork. We did not imagine where we would end up.
Drawing on experience through participatory processes
As a starting point, we undertook a gap analysis by reviewing peer-reviewed literature and more than 60 fieldwork guidelines from organisations across the world – universities, research institutes, funding bodies and NGOs. We found that experiences of ethical dilemmas documented in the peer-reviewed literature were highly diverse and had been poorly translated in guidelines, with a few excellent exceptions such as the San Code of Research Ethics. Having identified a wide gap in the guidance, we realised the scope of our code needed to go beyond anti-racism and our department.
We drafted the code under a broader cross-disciplinary and ethical framing, then invited field researchers, at different career stages, from both Global North and Global South countries, to participate in focus-group discussions to revise the code.
Invitations to join these discussions were sent out through our professional networks and we were overwhelmed by the interest. We held video consultations with authors of other codes of ethical fieldwork. The breadth and depth of expertise shared showed us how we could strengthen and nuance the language to make it more applicable across cultures and disciplines.
Once we had a solid draft, we approached the department research committee for sign-off, thinking that our job was done. Little did we know the splash the code was about to make.
Scaling up and implementation
We started thinking about how to scale up and implement the code. Laura presented it at the Royal Geographic Society (RGS) conference in September 2021, where it received international critical acclaim from experts in research fieldwork. After that, momentum grew exponentially.
The university's research and ethics committees at every level, from departments up to the pro vice chancellor for research, showed interest. The code went through 12 further rounds of refinement based on feedback from senior university researchers before being approved as a university-level guideline, 18 months after we started.  
Now officially launched, the code is a living document, published by the University of Oxford and hosted on the RGS website as exemplary guidance for ethical fieldwork. We provide mandatory training for master's students and first-year PhD students in our department, using the code as the core reference, and offer ad-hoc training in other fieldwork-heavy departments. The code is being rolled out for use in departments across the university and is being adopted by researchers in institutions internationally.
Takeaways and lessons learned
From activism to tangible action: often there is a lot of discussion about moving ideas forward and little action. There is a lot of red tape, but it can be done!
Building on good work: it was so important for us to review existing guidelines and connect with people who have established good frameworks. There was no need for us to re-invent the wheel.
Tapping into existing expertise: the focus-group discussions we hosted with a diverse range of experts were invaluable.
Anticipate the length and cost of the undertaking: at the outset, ensure that a realistic timeline and budget for guideline development is properly mapped – from start to finish, with all tasks accounted for.
Make sure the team is appropriate: define clear roles and expectations for all those involved and how much time they have available to dedicate to the task.
Get cheerleaders onboard: identify champions within your organisation who are supportive of your endeavours and will highlight your work to those who have decision-making power.
Spread the word: we used a broad range of channels to disseminate our code, including speaking at events, training, through organisations such as the RGS and working with the university's communications team.
Measuring impact: have a clear impact-assessment strategy – our document has a DOI, so it can be cited and we get feedback from our training workshops.
Catherine Fallon Grasham is a postdoctoral researcher and Laura Picot is a DPhil student in the School of Geography and the Environment at the University of Oxford, UK.
If you found this interesting and want advice and insight from academics and university staff delivered direct to your inbox each week, sign up for the THE Campus newsletter.
Standfirst
A code of conduct for ethical research fieldwork developed by two researchers at the University of Oxford has been taken up by departments across the institution and beyond. The code authors, Catherine Fallon Grasham and Laura Picot, share lessons they learned along the way