View
Image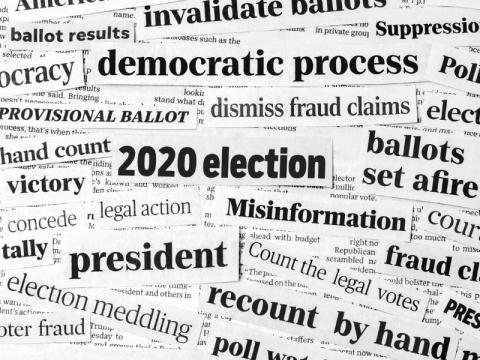 Main text
College students around the globe are acutely aware that they are entering the professional world at a tenuous sociopolitical moment, as the resilience of democracies is tested and autocratic movements are on the rise. Regardless of which field students enter or which country they call home, it is imperative that the college experience prepares them with the habits of a healthy democracy.
To this end, there are three strategies that colleges can get started on right away:
Institutionalise civic internships        
Colleges and universities can create a menu of civic internships by establishing relationships with local organisations and businesses. These partnerships should span a broad range of fields and public services, including newspapers and media, public agencies, local municipalities, public health and justice organisations, educational services etc. Such internships are opportunities for students to contribute to the civic functioning and real lives of the people in the wider community.
Most critically, these should be standard offerings in a college curriculum – not extracurricular or additive electives. Civic internships should be available for credit and taken in lieu of other classes to encourage broad participation, equity across the student body, and real dedication. When colleges have enough community partners to meet the needs of their student body, they can go a step further and make civic internships a requirement for graduation. Internships can be bolstered by a classroom component to provide context for student work and a shared sense of why this matters. We run such a programme at the University of Vermont, which has been growing steadily in popularity with students and community partners since its inception a few years ago. Our students can report for local newspapers, help rural municipalities, and work with public health organisations, to name a few.
In summary:
Make civic internships a standard part of course curricula alongside traditional classes.

Foster mutually beneficial and lasting relationships with community partners.
Reach every student (democracy is not just for political science majors)
Every student of every major and academic focus can graduate from college with an understanding of how their field may intersect with civic functions and democracy. It is no longer enough for civic internships to be limited to a small handful of liberal arts majors. Universities should find inroads for students in STEM, business and fine arts to contribute to local or national efforts that affect people's lives and civic functions.
This will require thinking more creatively about the internships that many schools have offered in the past. For example, where students of computer sciences may have previously focused their internship efforts on the tech sector, they could instead help small and underfunded municipal offices modernise their methods of communicating with residents. These experiences have great potential to help graduates think more expansively about how to apply their specialist knowledge and skills in the world.
In summary:
Normalise civic internships in colleges, departments and disciplines that have not historically been active in this area, and make those connections for your students.
Maximise opportunities for democratic practices on campus
College campuses are not pure democracies, but they are ripe environments for democratic decision-making in several areas. Many schools employ varying degrees of shared governance – the chance for faculty, staff and students to make decisions about how things operate and to take responsibility for their choices. Along those same lines, student governing bodies and associations are most impactful when they enjoy robust elections and they hold meaningful power in campus decision-making.
All this requires that university leaders afford these groups real influence and not merely symbolic presence. Herein lies perhaps the most challenging mandate for schools that are serious about democratic practices: colleges must welcome dissent, protest and criticism from their students. Fostering an environment where dissent and discomfort can coexist with institutional order can elegantly reproduce the essential ingredients of a thriving society. It will help make students comfortable with the inherent tensions of democracies, with the necessity of speaking up and accepting fair but undesirable outcomes.
In summary:
Give students, faculty and staff meaningful opportunities to participate in the decision-making process.

Cultivate an environment of respectful disagreement and tolerance for criticism.
As centres for the study of democracy sprout up around the world – exciting, necessary and inspiring initiatives, to be sure – colleges must also dedicate themselves to living these values, embedding them in the student experience, and providing students with tangible opportunities to appreciate their impact. With attention to these practices today, we can empower the next generation of leaders in every field to usher in a more democratic future.
Meg Little Reilly is deputy director of the Center for Research on Vermont at the University of Vermont.
If you found this interesting and want advice and insight from academics and university staff delivered direct to your inbox each week, sign up for the THE Campus newsletter.
Standfirst
Higher education is a critical pillar of a functional democracy and there are things that colleges and universities can do today to actively foster democratic practices, as Meg Little Reilly explains