View
Image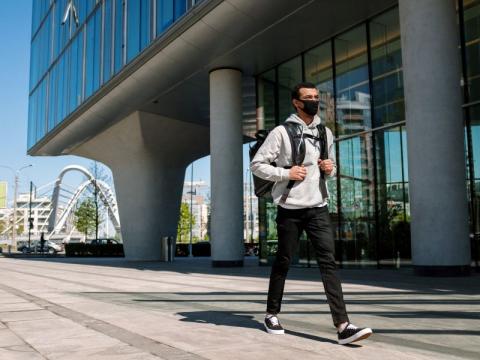 Main text
When students return to campuses, universities effectively are welcoming not one but two new cohorts. Many of last year's freshmen have yet to set foot on campus, and none had the sort of "normal" first-year experience they expected.
As a result, schools will look for ways to provide something closer to their expectations. This includes figuring out how to resume in-person student engagement opportunities – experiences historically tied to persistence and retention – while supporting students with wellness and academic resources as we emerge from the pandemic.
There is no quick and easy solution to finding this balance, but here are some practical approaches for easing students' transition into a post-pandemic campus environment:
Student engagement
When it comes to planning events and activities, listen to students. Learn what they want and how they want to participate, perhaps through outreach at the beginning of each semester. This might depend on where they live and what else is going on in their lives. It likely means continuing to provide a mix of in-person events and virtual experiences with both synchronous and asynchronous options.

Don't forget one important lesson from the pandemic: virtual opportunities enable participation by students challenged to participate in person due to their location, schedules, health concerns or abilities. Virtual events can be especially helpful for student organisations to expand access for new members in remote locations. 

For students who might be experiencing electronic overload, activities such as craft kits delivered to them or outdoor fitness challenges provide hands-on opportunities to accomplish something and share the results in person or virtually.

The pandemic reinforced the importance of finding innovative ways to build community among residential students. We created "Bulls in the Cloud" using the Canvas LMS to serve as a virtual hub for events and discussions and access to resources. Even as in-person activities return, virtual platforms make it easier for students to meet new friends, interact with faculty and connect with staff.

While in-person recreation opportunities might resume on a larger scale this fall, schools that offer e-sports have found that students who might not otherwise have been able to connect can do so by participating in video game competitions and watching them live or on replay through platforms such as Twitch. Popular e-sports-related messaging sites like Discord put students one click away from live conversations with one another and with peers from other schools during competitions.
Health and wellness
The extended nature of the pandemic is a concern, since the mental health effects of trauma are more pronounced when experienced over long periods. Some returning students will feel energised, while others will be apprehensive. It's important to recognise that both reactions are normal and acceptable, and to have both in-person and remote service options available.

Telehealth and teletherapy became effective alternatives to traditional counselling during the pandemic. As we transition back to campus, virtual services can continue to provide flexibility, but they also require a more thoughtful approach, especially when it comes to managing mental health emergencies.

Moving forward, consider a hybrid model that includes an initial in-person assessment with a discussion about whether in-person or telehealth (or a combination of the two) works best for follow-up services.

Third-party mental health platforms such as ProtoCall, TAO and Togetherall provide students with 24/7 access to support and educational materials that can complement on-campus services. These platforms offer a secure environment, comply with US federal and state laws and, in some cases, give peer support.

For students experiencing stress, things can seem as if they're spiralling out of control. When it comes to wellness support, remind them of what's in their control. Encourage them to focus on what they can do, not what they've lost.

Research shows students are receptive to peer-to-peer outreach, which promotes a "we're in this together" mentality. We hosted a series of suicide prevention events on Instagram with students from various organisations who shared stress-management and self-care techniques.
Academic advocacy
The pandemic reinforced the value of academic advocacy, which goes a step beyond traditional advising. By adopting an advocacy-based model, staff can take a proactive, data-driven approach to identifying students who might experience academic hardship through each stage of their college careers.

Leverage data analytic tools to follow students' progress, anticipate challenges and use targeted outreach to provide them with the right support at the right time to improve persistence and remove barriers to graduation.

Get your staff trained in intrusive outreach techniques. Advocates are trained to accelerate their level of intrusive outreach based on the severity and timing of the student's need and take a holistic care approach that addresses personal, academic and financial challenges.

For us, academic advocacy took on an even greater role after instruction transitioned online and referrals for support spiked. Even as in-person instruction resumes, the advocacy model will remain important for serving students arriving on campus for the first time or re-acclimatising after more than a year of remote study.
Danielle McDonald is associate vice-president and dean of students; Anita Sahgal is director of the Wellness Center and Student Accessibility Services; Jennifer DiPrete is director of the Center for Student Well-Being; and Allison Crume is associate vice-president and dean of undergraduate studies, all for Student Success at the University of South Florida.
Standfirst
Danielle McDonald and colleagues share advice on how universities can approach welcoming two student cohorts to campus for the first time, staying mindful of the vastly different attitudes among students relating to the post-pandemic transition