View
Image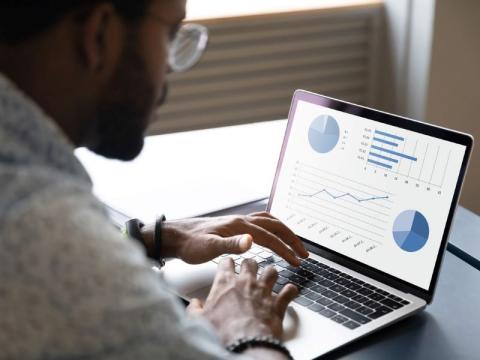 Summary
This video will cover:
00:16 An introduction to personal research metrics
01:45 How to discover what information is held about you online
02:31 How research impact is represented online
Transcript
Hi, my name is Ioannis Glinavos and I'm a law academic and e-learning content developer. In this short video, I will offer you some advice on how to make research metrics work for you.  
Let us start with some simple questions. Are your research papers visible to their intended audience? Do you know what information is available online about you as a researcher?  Do you wish to improve the visibility of your research, enhance your impact and elevate institutional metrics in your university's league table position?  
While research outputs themselves are part of one's broader employment relationship and career objectives, their online visibility is dependent on additional actions by each researcher.  
This is something that can be curated and improved by everyone. This video will show you how to improve your personal research metrics, but remember that individual actions can also have institutional effects as they feed into university research rankings.
League tables such as the Times Higher Education (THE) World University Rankings measure research influence through citations recorded on Scopus. Other rankings such as the Guardian University Guide rely on REF data, themselves dependent on research usage metrics. League tables also consider softer data on perceptions of prestige that are heavily dependent on staff research visibility.  
Curating metrics cannot generate impact where there is none. What it does achieve, however, is to bring the impact and reach of your research work to the attention of those data aggregators that produce information using academic metrics.
We will go through a set of tasks that can add value to your CV and improve your career prospects as well as enhance the prestige and visibility of your institution.
How can you discover what information is held about you online?  
There are several data aggregators that collect information on academic outputs and build profiles of researchers. The information that follows introduces you to person-centred metrics using the example of Google Scholar. We will then look at output-centred metrics using the example of Altmetric scores.
The easiest way to discover anything and everything is to Google search for the information you're after. Google Scholar is a specialised engine within the Google environment that collects information on the research individual outputs and other publications and links them to their authors.
The authors can then create or link with an automatically created profile and access statistical information on the impact and visibility of their research.  
The impact of one's research is represented through a citation count and scoring on the h-index, which is based on a researcher's most-cited outputs and the number of citations they have received in other publications. According to h-indexes creator, a person with 20 years of research experience and an h-index of 20 is good, 40 is great and 60 is remarkable.  
Of course, impact is a relative concept and can best be understood through peer comparisons.  
Having developed an appreciation of how your research profile is represented online allows us to proceed and discuss some output-centred metrics, using the example of Altmetric scores.
Altmetric and similar output-focused metrics measure broader impact of just citations. Altmetric collates mentions of your publications from news sources, blogs, Facebook, Twitter, Wikipedia and citations. 
In general, if an article scores 20 or more, then it's doing far better than most of its contemporaries.
Continue to "Making research metrics work for you, part two" here.
Ioannis Glinavos is a senior lecturer in law and an e-learning specialist at the University of Westminster.
Standfirst
An introduction to individual research metrics and how to discover how your own profile and data are represented online, in part one of Ioannis Glinavos' advice on managing metrics