View
Image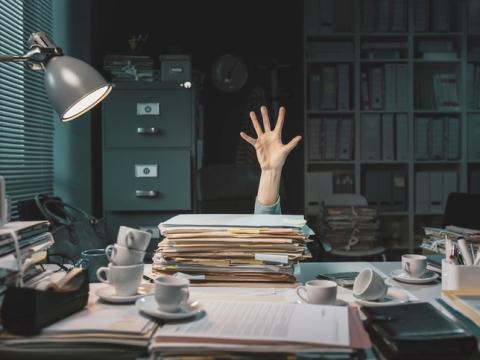 Main text
In the past, there was perhaps more of an understanding that, as professors, we could concentrate on either teaching students and maybe doing a couple of research projects on the side or, instead, focus on being a researcher advancing their field while occasionally teaching a group or two. This is no longer the case for many of us: not only has the role of academics been transforming dramatically in recent years (in many cases, this has even involved added administrative tasks), but universities themselves are under increasing pressure to provide their students with learning from great instructors who are also recognised experts who innovate in their field (and bring grants into their departments).
Regardless of your expertise, balancing the preparation of lectures, designing activities and learning how to use new digital tools to keep students engaged, all the while going to the lab, conducting empirical research, analysing data, reviewing articles and, of course, writing articles for publishing, can be overwhelming for anyone.
As a PhD student who also teaches undergraduates at a university characterised by innovative teaching systems, I have three recommendations that I hope can be useful for tackling this challenge:
Set realistic expectations
Want to publish in peer-reviewed journals? That's great – but be realistic about how many you can commit to publishing in over an academic year. Some universities have a specific number of collaborations they request from their professors, so you may have no room for accommodations, but if that is not the case where you are, adjust them to your workload. This is especially important if you're invited to be a co-author on a paper – never forget, it's OK to say no.
Discover which type of researcher you are
Some people have a better mental workflow early in the morning, while some of us are night owls. Identify the time you feel most productive, set it aside in your schedule and mark it on your calendar. One of the most basic mistakes many of us make is scheduling our classes and office hours and then giving over whichever blank spaces are left to research.
Then one of two things usually happens next: you perceive all of that "free" time as resting time and never get around to working on your research project; or you use it all (or most of it) for your research while neglecting your personal life. Explicitly setting aside time for research during the periods we are most fruitful increases our chances of moving forward with a project.
Don't be afraid to rely on tools
Technology to the rescue! Most universities have an LMS (learning management system) that is often underused. If you're anything like me and love teaching but hate grading, find out if your LMS can make life easier for you. For example, Canvas allows you to record a video entry as feedback, which I found easier and faster than writing comments – with the additional benefit of building rapport.
But what if your struggle is with publishing instead? For me, a game changer in writing my thesis was using a citation manager. I would recommend Mendeley since it integrates nicely with my university's system, but options such as Zotero and EndNote can also be useful. Find out which works for you, but keep in mind that it may take a while to get used to. Definitely don't give up – the hours I have saved tracking sources and notes are well worth the learning curve.
As a final note, what can you do if all of the above seem too difficult to implement or even out of your hands, and you still cannot find a balance between teaching and researching? Join up your tasks: bring your research ideas to the classroom and make them part of your lecture; add your research topics directly to the syllabus.
While you should not expect students to do the work for you, engaging others in your research topic through class discussions can help you detonate ideas that you can later explore, and students will certainly benefit from the critical thinking skills they will develop when engaged with materials directly from the source: you.
Megumi Terui is tutor-professor of educational innovation and digital learning at the Monterrey Institute of Technology, Mexico.
If you found this interesting and want advice and insight from academics and university staff delivered direct to your inbox each week, sign up for the THE Campus newsletter.
Standfirst
With ever-greater demands being placed on university faculty, Megumi Terui offers advice on balancing two key parts of the job