View
Image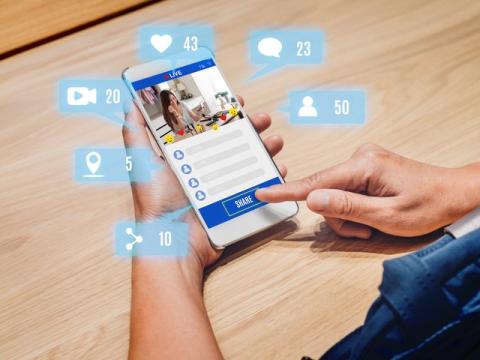 Main text
Higher ed institutions across the US are dealing with a new dual reality: fewer high school graduates in the decade to come and a continuing downward spiral in four-year college enrolment, translating to increased competition within a smaller applicant pool.
It's not easy competing for applicants when hundreds of other admissions teams are striving for the same students' attention, so colleges are turning to tech to refine their recruitment strategies and establish more personalised relationships with students. In this piece, I will explore common digital engagement challenges faced by admissions teams and provide insights on overcoming them.
Ghosting 
"Ghosting" is a term that is typically used in the world of dating apps, but it can also apply to the college admissions process. Ghosting occurs when a prospective student suddenly goes silent after having been in contact with the college. For example, a student might request information about the school and then never follow up, or they might start an application and then disappear. While there are many reasons why a student might ghost a college (family circumstances, money issues, etc), the most common explanation is that the student has simply changed their mind.
Solutions for ghosting: Several remedies can help with students who go dark, such as sending emails from a person rather than a generic email address or incentivising them to come to a personalised campus visit. A key target is to keep your content and channels relevant, and the first step is regularly reviewing said content and channels to ensure that you're driving engagement.
One way to do this is to look at which channels are getting the most interaction. Are people signing up for events you invite them to? Are people liking, sharing or commenting on your social media posts? Are they spending time on your website's key landing pages? If you're not seeing much engagement, it may be time to re-evaluate your strategy.
Immediacy 
Today's students expect instant answers and assistance. However, most schools are not set up to be immediately responsive in a personal way. Immediacy means being able to provide information or assistance without delay, and to meet this need, schools would need to set up a system where someone is available 24/7 to answer questions and provide help. This would be a very costly and difficult undertaking for most schools. As a result, many students are left feeling frustrated and disappointed when they don't receive the help and information they seek.
Solutions for immediacy: Managing expectations is critical in any customer-service-oriented business, and higher education is no exception. When students reach out to a college or university, they often have specific questions or needs that they expect to be addressed quickly and thoroughly. However, the reality is that each communication channel ​​– from web chat to social media to phone calls – has its own response time, and it's important to set expectations accordingly.
With budget cuts and the great resignation, many schools have fewer staff members to be at the ready to respond to student enquiries. If realistically you can't manage a channel, there's nothing wrong with pausing it for a while. For example, turn off the phones during a holiday break. Just be sure to offer a few dedicated sources where students can reliably get useful information.
To keep up with student interactions, admissions teams are turning to artificial intelligence (AI) for help. And there's a lot more to AI assistance than just chat bots, particularly for smaller colleges, community colleges and historically black colleges and universities (HBCUs), whose admissions teams are forced to do more with less. AI can be used to quickly and easily process large amounts of data, identify patterns and provide recommendations. In the context of higher ed, that means being able to automate personalised messaging campaigns. By using AI, higher ed admissions teams can work more efficiently and effectively, giving them an edge in the highly competitive admissions landscape.
Melt

 
The phenomenon known as "student melt" (where prospective college students' motivation to attend college "melts" away during the summer between the end of high school and beginning of college) can have several causes. One of the biggest reasons that accepted students don't show up for class at the start of a semester is because there are just too many unfamiliar logistics to navigate. This is especially true for first-gen students who don't have a family member who has done it before and can provide guidance and advice.
Solutions for melt: By providing clear and concise information upfront, institutions can help reduce student melt. This might include online checklists that show students what steps they need to take to complete the enrolment process or sending emails and text messages that nudge students to submit documents or pay a deposit.
Compounding the melt phenomenon are new National Association for College Admission Counseling guidelines that allow competitor schools to recruit students after they've accepted admission to another institution. So, accepting a school's offer has lost significance for enrolment managers who are trying to predict who and how many students will arrive in September. To help with this, enrolment platforms that use student engagement (email opens, visits to a page for admitted students, etc) as signals to predict their behaviour give schools a heads up about students who are most likely to melt. Schools can then use interventions, such as a phone call from an admissions counsellor or invitation to meet with a professor in the student's chosen major, to reduce the likelihood that that student will melt.
Ardis Kadiu is the CEO and founder of Element451. As a first-generation graduate student at NYU, he worked with the admissions office, where his passion grew for creating solutions that empower admissions and enrolment teams to work more efficiently.
If you found this interesting and want advice and insight from academics and university staff delivered direct to your inbox each week, sign up for the THE Campus newsletter.
Standfirst
Whether it's due to 'ghosting' or 'student melt', prospective students are harder than ever before to attract and hold on to, but a combination of tech and human solutions is at hand