View
Image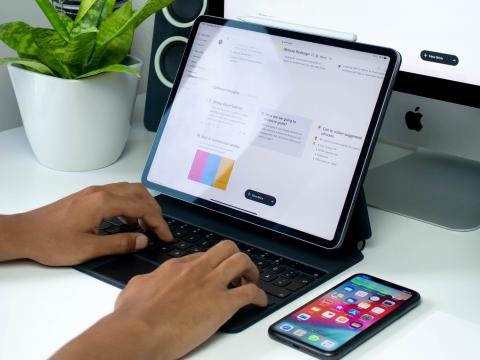 Main text
While the spring semester of 2020 was an exercise in pandemic crisis response, the next step was longer-term planning for safe and effective teaching in the autumn of 2020 and beyond.  
For us, the result was a set of new course modalities, from which instructors and departments could choose:  
In-person (with distancing) 
Flex in-person (hybrid of in-person and online) 
Live online (synchronous online) 
iCourse (mostly asynchronous online)
 
Recognising that most of our instructors were unfamiliar with teaching in the new online and hybrid modalities, our teaching and learning centre, the Office of Instruction and Assessment, created a website to provide resources and examples for each of the new modalities, so instructors could choose what would work best and redesign their courses accordingly.
Here is an overview of how we did it and the key lessons learned. 
Creation of the Teaching Models website 
We quickly realised this site could fulfil a wider need as a hub to connect instructors to information, policies, and resources that had previously been housed in different parts of our large and complex institution.  
This vision became the Teaching Models website, which presents resources for instructors, resources to share with students, official university communications, and recommendations for inclusion and designing online courses.  
Teaching Models is structured around the three new course modalities – in-person teaching with distancing, flex in-person with online teaching, and live online teaching. iCourses are a familiar format so were not included. 
Instructional content 
Each course modality page offers an overview, a classroom example, and the benefits and challenges of that modality – and so provides concrete information for teaching in each format. The site includes links to on- and off-campus resources appropriate for the modality. 
For each modality, instructors recorded short videos in which they described why they had chosen their modality, how they expected it to work, and what challenges they anticipated.  
The final page on the website is a curated collection of resources on various topics related to new teaching modalities; for example, online discussions, office hours, and active learning in virtual classrooms. 
To ensure accessibility was not overlooked in the redesign of courses, the landing page includes a link to instructor resources provided by our Disability Resource Center. 
Once class modalities for the autumn were announced, it became clear that many instructors were uncertain how to transform their courses into a new modality. In response, we created the Planning for Remote Teaching page.  
This lays out a step-by-step process to convert face-to-face or a hybrid courses to a more online delivery with links to the help pages for using our learning management system and other relevant resources.  
Keeping up to date with a changing situation 
Teaching Models was envisioned as a central location for communication and resources related to teaching during the pandemic. But as the situation changes, the site must be regularly updated with official university communications and links to relevant articles or blogs in other higher education media.  
To complement the instructor videos, we plan to add videos of students sharing what worked for them during the autumn semester, what challenges they faced, and what advice they have for other students. 
Ongoing analysis of the Teaching Models page use and instructor surveys allows us to respond to instructor needs and share what is working well amid continued uncertainty. 
Wider teaching support during the pandemic 
Teaching Models enhances a rich ecosystem of teaching support material that was developed or modified to support instructors during the pandemic.
Faculty Learning Communities (FLCs), peer-led groups of faculty who meet to share ideas and resources, coalesced around the challenges that instructors encountered during spring's rapid switch to remote teaching; more than 400 faculty members participated in FLCs throughout the summer to learn about new tools and strategies. 
Regular emails were sent to all instructors summarising teaching policies and pandemic-related changes and resources.  
A committee of instructors and representatives from across the university met regularly to discuss the changing situation and made recommendations for policy and practice changes to support student learning and progress.
Key lessons on creating a centralised teaching resource for staff 
Consider what modalities your instructors will be allowed to teach in. For unfamiliar modalities, try to give a "picture" of what the teaching interaction looks like using examples, short case studies, or videos. 

Identify the basic skills and knowledge instructors need to know to successfully design courses for each of those modalities. What strategies will be accessible and implementable for instructors who are stretched for time? For example, suggest what work could be completed outside class, and how the grading scheme might provide incentives for completion of out-of-class work; recommend strategies to promote student engagement online. 

Develop a communication strategy to highlight new useful resources to instructors. Emails sent directly from our Office of Instruction and Assessment avoid holdups in approval by higher administrative offices. We aim for no more than one communication per week with a focus on the most critical developments or resources.

Update the site in response to new resources and changing needs communicated by instructors and other stakeholders. When our website was being created, instructor questions drove the creation of several resource sections. We will use instructors' experiences during the fall semester to update certain documents on the site.

For instructor questions not addressed by the website, have a team on hand to field email queries and refer them to the appropriate experts.
Ingrid Novodvorsky is director, teaching, learning, and assessment and Lisa Elfring is associate vice-provost, instruction and assessment at the University of Arizona. 
Standfirst
To assist staff in adjusting courses to new online and hydrid teaching modes, the University of Arizona created a centralised information and advice resource. Here is a summary of how they did it and the key considerations and lessons learned