View
Image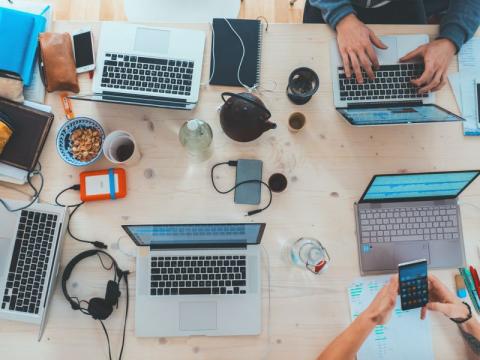 Main text
With more than 1.2 billion young people forced out of their classrooms by Covid-19, according to reports, educators have been exploring new ways of working to retain – or enhance – the quality of teaching.
Gone are the days when students had to make appointments to meet professors. Today, with the rise of educational technology, everything is a few clicks away. Faculty are increasingly familiar with phrases such as immersive learning, gamification, flexible education and AI-adaptive learning.
Students and university staff alike have, at times, felt overwhelmed by the need to develop, improvise and adapt to the changes in higher education. Universities are bombarded with offers from ed-tech providers promising to support and enhance their teaching capabilities and more. With so much choice, it is important to map out a few essential criteria before one decides to partner with any ed-tech platform. So, here are some key considerations for faculty when choosing new tech tools:
Know your goals
Before you consider the key criteria, you need to establish clear goals for taking on a new ed-tech tool, based upon the pedagogical needs you are looking to address. Once you have identified your pedagogical or institutional needs, look for technology options that can help achieve these.
Common goals might be:
improving operational efficiency and reducing unnecessary costs
elevating the user experience for students learning remotely
increasing student capacity and collaboration
incorporating interactive authentic content, virtual reality and competency-based learning with a streamlined approach to undertaking assessments.
Smooth access 
A good ed-tech platform should have the flexibility to be accessed via a link and should be compatible with multiple devices, so students can access classes and materials when and where they need to. Any login procedure should be quick and easy, offering minimal interference to the student's user journey and overall education experience.
Platforms should offer a single sign-on system whereby students only have to enter login details once in order to access all the online functions and information needed for their course information and university support services. Using single sign-on lightens the burden of student data for the university and makes it easier for passwords and identities to be protected. It is also the first step towards deeper integration with other online systems. It is important to consider how a new platform will integrate with the university's existing systems to create a streamlined, user-centric experience.
Online textbooks have increasingly become the standard from secondary to higher education. School districts and universities alike provide students with tablets, laptops and a capable wi-fi network. Many students have their own personal electronic devices. Logging into class online is quick and easy. Completing assignments or catching up on reading can be done on the go. Such functionality matches today's students' lifestyles, which is essential to student success.
Friendly interface
A virtual learning environment (VLE), or classroom, should be highly customisable for tutors as they need to feel comfortable in that setting to proceed with their lessons. While prior preparation and training to use any new ed-tech platform is important for a seamless online learning transition, faculty should experiment with different functions to find the best learner interface and tools for their needs.
Tutors should be able to adapt learning platforms to produce interactive lesson plans, with the type of teaching determined by the students' abilities and interests. So, students who have achieved a similar level of understanding can be grouped together with teaching pitched to their needs. This way, good ed-tech platforms can help shape teaching to bridge learning gaps.
Tutors may wish to consider using their ed-tech tools to develop a class website through which students can learn and engage with their classmates. Through these class websites, tutors can track the daily happenings in class, making it a win-win asset for the university. This could also be done as a personalised class blog page.
VLE platforms should offer a range of features so tutors have freedom to explore and play around with what works best for their subject and class.
Teaching support
Effective e-learning tools should help tutors easily construct classes, access relevant information such as student engagement levels, and offer a convenient mode of delivery. These features ensure tutors are well equipped to design classes with agility and zest, while helping them gain insights into students' performance using learning analytics.
If a student is working on an assignment or project through the platform, tutors should be able to analyse the frequency of logins and the time spent working on the platform to determine engagement and progress. Or tutors could get creative with their monitoring, creating e-learning spaces where students are locked out until they finish a set of activities or quizzes.
This way, an effective system should help academics refine and improve the learning experience based on levels of student engagement and progress in each activity or module.
Interactive sessions
Unlike conventional in-person teaching, virtual classes can quickly become chaotic if interactive sessions are not well designed and managed. Virtual learning platforms should offer multiple features and tools that support lively and interactive online lectures and classes, while maintaining order. This might be through splitting the class into smaller discussion groups or offering different modes of interaction, such as live discussion boards.
Virtual platforms should also facilitate student connections in more informal, non-classroom settings, helping nurture a supportive learning community. A good learning management system (LMS) should offer social networking abilities such as web conferencing and forums, through which students can develop interest or study groups that foster their soft skills such as communication, presentation skills and boost confidence.
Whether through an LMS or separate application, universities should ensure they offer online spaces where students can meet, network and engage with classmates. Administrative staff and faculty could use this channel to share announcements, messages, live events and other activities that help build a tight-knit student community.
These are the most fundamental considerations but, of course, educators may wish to add other criteria when assessing new ed-tech depending upon their needs.
Worthwhile questions to ask ed-tech suppliers include:
How can this ed-tech platform help in achieving the university's current objective?
How quickly and swiftly can the platform help tutors build teaching programmes?
Does it have a good mobile interface? Many students may wish to access classes and resources via their mobiles.
Does it offer teachers and learners a seamless channel of communication? For example, for scheduling meetings, sending emails, providing timely feedback, sending reminders on submissions and customising event recommendations based on the student's profile.
Can communications be scheduled with the learners?
How long will it take to train teaching staff to use the ed-tech platform effectively? Depending on the training period, one can decide if it is worth the time and resource investment.
What kind of insights on the progress of each student can this platform provide?
What are the platform's privacy and data use policies and security information?
The decision-making process
University leaders seem to vacillate between including faculty and students in decisions over new ed-tech tools and not.
I believe it's better to include as many teaching staff as possible in such decisions, particularly where they will be using the technology most. An efficient way to do this is to create a focus group and discuss the potential pros and cons of a new ed-tech platform. Also try bringing in experts from outside higher education, preferably with a strong tech background, as they can offer new perspectives and insight. Alternatively, you could ask teaching staff to do a demo class with students and then share feedback.
Most universities have a centralised decision-making process, but it is still highly advisable to do thorough research and speak to as many faculty members as possible. There can be a lot at stake when selecting new ed-tech tools so take the time to properly investigate if a given platform will effectively serve your institution's needs before making any final decisions.
Vikas Nand Kumar Batheja is co-founder and director of Capital University College.
Standfirst
Vikas Nand Kumar Batheja presents the key considerations and questions to ask when selecting new technological tools to support your teaching and university support services