View
Image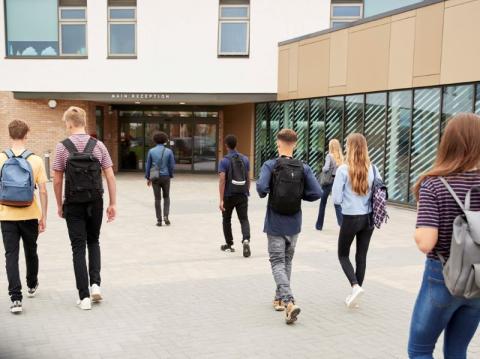 Main text
I remember sitting down with my parents and laying out the list of schools I wanted to apply to. I felt their support despite neither of them having attended college themselves. They wanted what was best for me, and if this was the path I decided to take, they were determined to help me "figure it out".
I am proud to be the first member of my family to attend college, but I also know firsthand the many challenges first-generation students face during the admissions process. The process itself is unfamiliar and then they must also prepare to adapt to a new environment and build a connection to the university and their peers who may have legacy family members.
According to the Center for First-Generation Student Success, 56 per cent of undergraduates are first-generation college students. Fifty-nine per cent are the first sibling in their family to choose higher education. Yet, in a recent Student Voice survey, despite eight in 10 first-generation undergraduates saying they feel like they belong on campus, one in three admit they only feel a sense of belonging in certain spaces.
I've spent my career ensuring all students, and especially first-generation students, have as much knowledge as possible. Higher education administrators can be a functional resource and connection for individuals in the process of becoming the first in their family to go to college – but it needs to happen early and often.
Simplifying the application process
Language: Admissions applications are tough. Each one is different and schools sometimes use language that doesn't make sense to the student. As we consider the types of students who are completing our applications for admissions, whether through our own websites or the common application, being conscientious about our language is key. For example, we noticed that some students were misunderstanding our use of the term "test-optional", so we changed this section of our application to say "Are you planning to submit standardised test scores?".
Financial support: Per Student Voice, the main reasons first-generation students showed initial interest in their school were affordable tuition (49 per cent) and generous financial aid (38 per cent). Data from the Center for First-Generation Student Success revealed that the median parental income for first-generation students is $41,000 (£35,000) compared to $90,000 (£76,000) for continuing-generation students, so it's not surprising that cost is a top priority. For many first-generation families, it's hard to justify the cost when a year's tuition might equal their annual salary. Published tuition costs often knock colleges off prospective students' wish lists right away, which is why it's so important to communicate early and often the many financial resources available to assist families in making college more affordable.
Scholarships, need-based aid and even loans make costs more reasonable for families, but since they haven't been through the application process before, they likely aren't aware of all of the options. Each school has a distinct financial aid package, but again, without prior experience, how can these families be expected to know the difference between gift aid and loan aid?
Universities must consider the limited knowledge and understanding that hinders first-generation students and their families, and prioritise engaging in deeper conversations with them about costs and ways to cover those costs, the value of pursuing higher education and how the investment will pay dividends for the student down the line.
Creating comfort for first-generation students on campus
First-generation students sometimes struggle to adjust once on campus. The Clay Center for Young Healthy Minds identifies many of the psychological, academic, financial and social challenges that first-generation students regularly confront. Confusion about how to navigate the resources available, feelings of social isolation because they may not have the means to participate in certain events on or off campus, even a sense of "imposter syndrome", like someone's going to figure out that they don't really belong.
Of the 1,073 first-generation undergraduates surveyed by Student Voice, 25 per cent never revealed their first-generation status to their classmates or professors. More than half only do so in applicable situations or conversations.
We have a responsibility to do better. We need to proactively encourage first-generation students to find their communities and access the resources that will help them make campus connections that support their success. Were they athletes in high school, student government members or part of an LGBTQ organisation? If so, where can they engage in these activities as college students? It's vital that we help them find a sense of belonging.
Of course, while the students are our number one priority, it's critical that their families also feel a sense of community and connection to the university.
Bringing family members into the fold
It's not uncommon for parents or family members of first-generation students to question the cost or even the necessity of higher education. After all, they didn't go to college. But times are different now and higher education is often a prerequisite for getting a foot in the door in a competitive job market and can offer more career options later in life.
Instead of allowing family members to feel like outsiders, bring them into the fold and help them develop a connection to the school and community. Give them the tools to be a source of information and a resource for their children.
We hold parent panels during open houses that touch on everything from student safety and student support services to dining services and peer tutoring details. We give parents the same resources we give our students so they can be additional advocates on their students' behalf. I've found that families are happy when their students are happy. Regularly getting everyone on the same page is a big first step.
First-generation students face barriers that continuing-generation students will never know. But they all deserve to have a positive college experience. By taking a more proactive role in the lives of first-generation students and their families – both during and after the application process – higher education administrators can be their bridge to a more fulfilling journey.
Aimee Huffstetler is assistant vice-president of enrolment at Gwynedd Mercy University.
If you found this interesting and want advice and insight from academics and university staff delivered direct to your inbox each week, sign up for the THE Campus newsletter.
Standfirst
A first-generation college student herself now working in enrolment, Aimee Huffstetler, shares insight into what administrators can do to ensure first-generation students and their families feel connected to their university