View
Image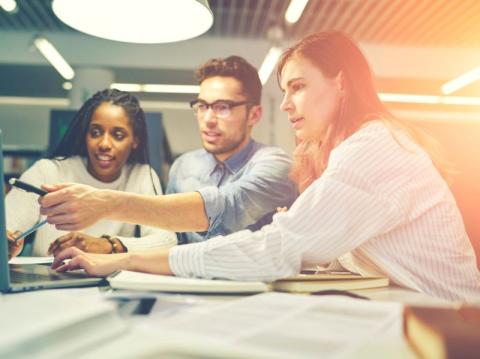 Main text
Knowledge transfer projects (KTP) offer exciting opportunities for partnerships between a company and academia supported by government funding. The KTP between the University of Reading and Red Whale, which provides ongoing professional development for primary care clinicians, won the prestigious Best Partnership Award in 2021. In this article, we reflect on eight project foundations that contributed to this success.
Red Whale provides quality medical education to more than 15,000 primary care clinicians in the UK each year – and abroad through their social enterprise. Clinicians are engaged and inspired to undertake clinical professional development (CPD) that translates to immediate patient benefit through a combination of humour, action plans and up-to-the-minute medical research.
The aim of the KTP was to develop an online teaching platform and courses to complement Red Whale's current face-to-face offering. Key to the project was ensuring that the new courses were relevant, challenging, fun, responsive to clients' needs, adaptive to breakthroughs in medical practices and available 24/7 to support the CPD requirements of medical practitioners with tight time constraints and budgets.
The ability to deliver online CPD became even more critical when all planned face-to-face courses had to be cancelled from March 2020 because of the pandemic, while professional development became ever more important for primary care professionals. Fortunately, this two-year project, which started in late 2018, had progressed so well by March 2020 that online training could be provided as soon as lockdown started and then adapted to help NHS front-line staff throughout the pandemic.
To develop this award-winning project, we harnessed our collective experience of doing more than 30 KTP projects:
1. Have a strong rationale and clear goals from the start
It is vital that the company has a strong rationale for, and vision of, what they want to gain from undertaking a KTP that, with the input of the academic team, becomes a shared vision and a set of tangible outputs across the duration of the project. It must encompass short-term quick wins, mid-project gains and longer-term returns on investment.
2. Receive university support
Support from our excellent team in the university's Knowledge Transfer Centre helped immensely with putting together the proposal, managing project finances and submitting the quarterly local management committee (LMC) minutes to Innovate UK. Additionally, knowing that KTPs are an important part of our institutional research strategy helped enormously.
3. Appoint the right KTP associate
Funding for a KTP project enables the employment of an associate, normally a recent graduate, in this case Blessing Mbipom, who works with both the company and the academics to drive the project forward. Employing an associate whose skill set is the right fit for the project is paramount; this requires an advert that clearly specifies the skills and levels of academic attainment required while not restricting the application field too greatly. While there is time pressure to start the project, if the first round of advertising and interviewing for the job does not attract the right candidate, it is worth re-advertising. Remember, the KTP associate is the one who will develop the project on the ground and who will ultimately take ownership of it and make it a success.
4. Support the KTP associate
While talented, it is important to remember that the associate is in the early stages of their career and as such still has much to learn. As well as the day-to-day interaction with the company, weekly meetings with the KTP supervisory team are crucial. Their aim is to not only to discuss progress and advise on technique, but also to support the associate's professional development. Encourage them to make full use of the training budget and apply what they learn to enhancing the project as well as embedding the knowledge acquired into the company. Make use of university training courses, academic leadership opportunities such as the Advance HE Aurora programme, KTN Innovation Canvas, as well as more expensive external training courses and conferences.
5. Listen to your KTP adviser
The regional KTP adviser is a great ally for your project. They help at every stage: from initial discussions about its feasibility to its completion. Their independent expert advice provides additional project support for all the partners. As well as contributing significantly to pre-submission discussions about the project and definition of clear objectives and outcomes that show business growth, they are passionate about supporting the professional development of the KTP associate, helping the team hone what success will look like for the business, and reminding the team about the deliverables that are crucial for the success of the partnership: from business success to academic publications.
6. Create a true partnership culture
We established an excellent relationship between the associate, the company and academics from the start, creating a positive and productive project environment benefiting all. Defining clear roles among the team and building trust between academic and non-academic colleagues supported a truly collegial environment. It is important to acknowledge each other's expertise, understand the need to balance academic priorities with business needs, and to work supportively and collaboratively on tasks rather than as separate entities.
7. Keep a focus on benefits and outputs
This is not a research project per se, although research as well as business outputs will emerge. Clear assessment and impact strategy were an important aspect of our work. What also helped was being active during the lifetime of the project with dissemination and public engagement. We presented at events and entered for various awards, which also gave us the opportunity to reflect on the progress we were making. A winning project brings benefits to all parties, and we maintained an online benefits log to keep track of these. This log was immensely useful when writing the final report.
8. Manage in a focused but flexible and responsive way
It is essential to keep track of project progress. We held weekly technical meetings of the core team, monthly strategic assessments for prioritising goals by the wider project team and presented formal reviews of actual versus expected progress at the quarterly LMCs. We employed Asana as our project management tool, and Dropbox, SharePoint and Microsoft Teams for online collaboration. We adopted an agile approach to prioritise requirements in response to client requirements, competitors, topics of medical relevance, the changing primary care sector and, in particular, to respond to the sudden onset of the Covid pandemic.
KTP projects are an immensely rewarding and valuable way of bringing together academia and businesses to solve real-world problems while accruing benefits to everyone concerned. In a nutshell, the secret to a successful partnership and project is to create a strong team who enjoy coming together to create innovative solutions – and to eat cake – lots of it!
Rachel McCrindle is a professor of computer and human interaction; Richard Mitchell is a professor of cybernetics and

school director of technology enhanced learning

; and Yota Dimitriadi is a lecturer in computer science education, subject leader PGCE secondary computer science and deputy director of teaching and learning, all at the University of Reading.
If you found this interesting and want advice and insight from academics and university staff delivered direct to your inbox each week, sign up for the THE Campus newsletter.
Standfirst
Eight key components of a successful knowledge transfer project (KTP), drawing from the experience of an award-winning initiative to develop an online teaching platform for primary care clinicians