View
Image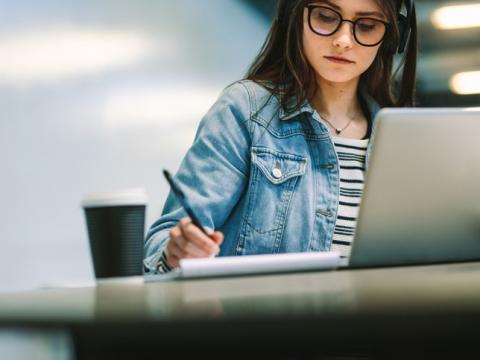 Main text
Do we need another career development opportunity for the best of our next-generation talent? After all, there is no shortage of existing, tried and tested means. Undergraduate students can secure scholarships to pursue research in the gap between academic years; doctoral research students can apply for mid-PhD internships to join a research organisation; and there are postdoc positions to supercharge the start of an academic career.
All well and good. I'm not suggesting that our traditional means of developing research talent are wanting. I'm certainly not advocating a shift of resources away from these schemes to finance other career development opportunities. On the contrary, we need more of what we already have − and they need to be better resourced. 
However, there is next-generation talent that is poorly served – postgraduate students on taught degree programmes who may be thinking of pursuing a research career.
Perhaps we think of them mainly in terms of the income they generate?  Perhaps we think of them as a marking load that looms on the horizon? Perhaps we think that their taught programme is sufficient development? The same might be levelled at undergrad and PhD students, yet the sector provides opportunities for the most promising talent among them.
It's also worth acknowledging that university research units come in all shapes and sizes, and smaller (but active and successful) research units in less research-intensive universities are not always well placed to secure postdoc funds. There seems to be an assumption that bigger is better when it comes to judging research environment and the suitability of a unit to develop research talent.
So what am I advocating? Put simply, there is scope for the sector to offer structured research development opportunities to taught postgraduate students – and the range of research units that may be well placed to do so extends beyond the usual suspects.
Every year for the past three years, the Scottish Poverty and Inequality Research Unit (SPIRU) at Glasgow Caledonian University has employed two new researchers on a one-year, fixed-term contract for one day per week at grade point 24, the minimum point on the academic researcher scale. Across the three appointment rounds, 124 applications have been submitted for these six positions; in 2020, 69 applications were received, far outstripping the number of applications in 2019 and 2018. Given that 667 pages of research applications were received in 2020, the recruitment selection panel is currently procuring sufficient supplies of coffee to see it through the sifting of applicants for the 2021 appointment round. 
Is this a dystopian tale of a sector in crisis?  Is this an exemplar of exploitative employment practice? Is this a misnomer for an early career opportunity that offers little development, progression or opportunity?
On the contrary, I would contend that this is an innovation that delivers for our unit and clearly taps into unmet demand – supporting the development of pre-PhD researchers by having them join SPIRU for one year, contributing to its core work and research.
Fine in theory, but what about in practice? Does it serve the post holder well? Five of the six post holders have moved on: one to a research position in a university (she was appointed in the first round, when midway through a PhD, before we recast the appointment criteria to favour pre-PhD students); one has progressed to a PhD with SPIRU; and three are pursuing research or advocacy careers outside academia.
So, it seems to be working for the post holders, but what does SPIRU get from it? In the first round, a research evaluation on one of the university's Caledonian Club projects was completed. External reports have since been co-authored for the Poverty and Inequality Commission, the Edinburgh Poverty Commission, Good Food Scotland and Assist FM. From this research, the SPIRU researchers have led the authorship of academic journal papers, with one accepted for publication and three nearing completion, and delivered two poster presentations at the Bristol Poverty Institute Conference in 2021.
There has also been writing for non-academic audiences, such as the contributions of the researchers to Platform Glasgow's mail art project, in which SPIRU challenged the portrayal of life in deprived neighbourhoods in Glasgow, and the preparation of a briefing for Edinburgh Council on academic writing on poverty stigma. And there's been much more. In short, it's a big return on investment.
What makes it work? The researchers are very much part of the team. Perhaps this works better in smaller research units, such as ours, but in any case it could only work if there is a firm commitment to developing talent. We start the week at the SPIRU team briefing, which is followed by debriefing/briefing on ongoing work only with the researchers. The researchers work one day per week − a day of their choosing that aligns with their wider commitments.
These two posts are financed from about £17,000 of the funds that Glasgow Caledonian University receives from the Scottish government to buy out the time of SPIRU's two professors for the support they give to local authorities for the Child Poverty (Scotland) Act 2017. In our experience, small sums can go a very long way (in supporting academic development; larger sums are needed to tackle poverty).
Surely there's scope for more investment to support the development of top talent among taught postgraduate degree students elsewhere in the sector.
John McKendrick is co-director of the Scottish Poverty and Inequality Research Unit at Glasgow Caledonian University.
Standfirst
There's great scope for the sector to offer research development opportunities to taught postgraduate students, says John McKendrick