View
Image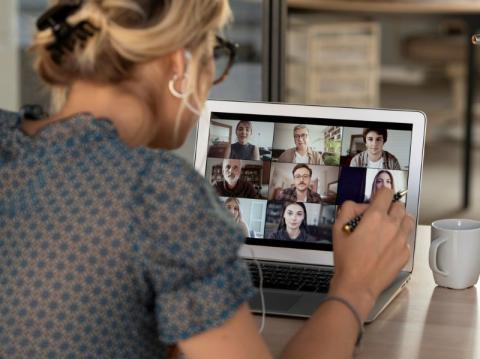 Main text
Nearly 10 per cent of students enrolled at Xi'an Jiaotong-Liverpool University's International Business School Suzhou remain unable to return to campus because of Covid-19 restrictions. While the school has overcome many online teaching challenges, two ongoing concerns for remote overseas students are a lack of practical experience and difficulty finding quality internships. During the initial outbreak, the business school organised overseas internships for postgraduate students in countries such as Indonesia. However, work experience opportunities for undergraduates, in particular those in countries outside our faculty members' networks, were lacking. Acting on student feedback, our team has developed two one-month programmes to fill this gap. These initiatives help students develop "soft" skills, gain industry experience, and meet the 100 internship hours their academic programmes require.
Here we outline these initiatives and draw lessons for institutions looking to help remote students secure practical experience.
Online consultancies
One initiative, an Online In-Company Consultancy Programme, draws on faculty members' business contacts to provide online consultancy internships for undergraduates. Piloted in 2021, the online programme saw about 55 undergraduates working in eight teams, with each team aiming to solve a problem provided by a separate company. A faculty mentor with expertise in their assigned consulting area and a professional mentor from their chosen company guided each team. After an intensive four-week period involving regular meetings with mentors, the teams presented their findings to company representatives and other participants.
Students provided solutions on issues spanning social media management, corporate social responsibility (CSR), innovation management, customer and competitor research, HR and talent development, and organisational psychology. The companies engaged were equally diverse, featuring industries such as eyewear, engineering, food and beverage, and new energy vehicles. Internationalisation was a strong theme, as companies gained insights into potential international markets.
The majority of students said they would recommend the scheme to future cohorts, citing benefits such as the opportunity to work on real-world problems, the ability to learn from expert faculty and corporate managers and the chance to work with students from different backgrounds. The 2022 programme will include high-profile companies such as Lenovo and Oatly.
Top tips:
Launch the project with the support of senior management, and link participation in the scheme with academic staff's research and career development objectives
Leverage your academic staff's corporate contacts to partner with a diverse range of businesses and to gain more engagement from the partner companies to improve the experience for all participants
Keep the project short, and have three or more clear milestones. This competition features an introduction to company representatives (first week), a midway verbal status report (week 2), and a final presentation of findings (week 4)
Instead of assigning team roles for students, leave the final responsibility of managing the project to the lead academic staff member. Each will have their own project management style and likely provide students with a level of autonomy over their responsibilities. However, provide students with a clear crisis resolution system through social media to manage any conflicts that cannot be solved at the team level.
SDG virtual business project competition
A second one-month programme, the SDG Virtual Business Project Competition, aims to expose Chinese and international students to diverse ideas from other countries and universities and have a positive impact on the planet. In collaboration with the Asia Institute, the business school has invited students from around the globe to form teams of six and compete online to provide solutions to environmental and societal issues faced by Asia-based companies and NGOs. These cases relate directly to the United Nations Sustainable Development Goals (SDGs) and include topics such as gender equality, eco-friendly production and sustainability.
The four-week competition includes professional development workshops and mentorship meetings, allowing students to upgrade their project management and intercultural skills while they work on their cases. It concludes with a presentation on each team's findings. The competition provides opportunities to observe the impact of a competitive or game-like environment on student learning and work quality. Ninety-six students are enrolled from US and European universities and from our school.
Top tips:
Partner with institutions and networks to reach a larger audience of both students and companies or NGOs. Ideally, these would be found through academic staff connections or the school's existing partners and networks, QTEM for example. Our partner for this project is the Asia Institute, an education network or platform we have partnered with before
Creating teams with students from multiple universities and countries, as we are doing for this project, can prove challenging in terms of cultural and geographical barriers and requires frequent communication. Students are expected to meet at least three times per week, including at least one weekly mentoring session, but can reach their mentor quickly through competition WeChat and Whatsapp groups with any urgent queries
For this competition, the additional professional development workshops will focus on the UN SDGs, time management and organisational skills, cross-cultural understanding and presentation skills. These will be run by our faculty with expertise in these areas and trainers from the Asia Institute
Continuous improvement can be achieved through student surveys and informal corporate feedback to academic staff.
Practical experience post-pandemic
The ability to provide online work experience in the form of consulting projects has proven effective in helping students to gain internship hours as well as invaluable experience in a world where virtual work may be a permanent fixture. Given the vital importance of ethical and sustainable business practices, a focus on these topics can generate even more impact for the students and companies involved.
Ewout van der Schaft is professor in management and associate dean of international affairs, and Alex Mackrell is international PR and branding manager, both in the International Business School Suzhou (IBSS) at Xi'an Jiaotong-Liverpool University.
If you found this interesting and want advice and insight from academics and university staff delivered direct to your inbox each week, sign up for the THE Campus newsletter.
Standfirst
Universities face obstacles in helping distance learners access practical work experience. Ewout van der Schaft and Alex Mackrell share insight from initiatives at their business school