View
Image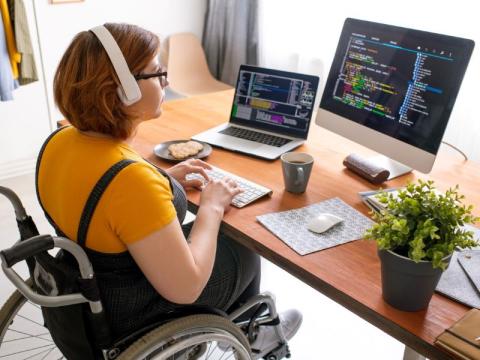 Main text
Women with disabilities in academia face "double the trouble of being a woman and disabled," meaning their identities in two historically disadvantaged groups often leave them in particular positions of vulnerability within the ivory tower. Women academics have been further challenged by the pandemic. Only an estimated 1.5 per cent to four per cent of academics have disabilities, compared with about one quarter of the general population. Without role models, it is more difficult for women with disabilities to recognise career paths enabled by higher education.
While larger institutional transformation – and the accompanying resources – is necessary to facilitate the long-term promotion and retention of disabled female academics in positions of power in universities on par with their non-disabled colleagues, there are several steps that individual allies can take to support students and mentees with disabilities. Inclusive mentoring and teaching strategies that help all students feel more welcome can be especially important to women with disabilities.
The reasonable adjustments (or accommodations, as it is called in the US) process is tedious and time-consuming at the best of times, and hostile and unwelcoming at the worst, so instructors and mentors can facilitate requests by trusting that students know what will enable their success. Sometimes this requires a bit of back-and-forth dialogue, because I've encountered students who are nervous about asking for too much. Women are less likely than men to negotiate, so encouraging women with disabilities to ask for what they need is a mentoring opportunity. Framing the question as enabling all mentees to do their best work, rather than compensating for deficiencies, will help students feel more confident.
Include language about valuing accessibility in your syllabus and mentoring materials
The Duke Accessible Syllabus Project walks through concrete changes instructors can make to syllabi and course materials. In addition to these changes to increase accessibility, I like to signify to all students that I am open to additional suggestions with this statement: "If you think of other accommodations that would help facilitate your health and success in this course, please talk to me and we will work together. Here is a list of some ideas of possible accommodations that might help make class more accessible to get you started thinking."
Since making these changes, I have found that students have come to me to discuss how they can be successful in additional situations: working mothers have asked to attend class remotely for a week while they did not have daycare coverage; a woman with a learning disability asked for a few days' extensions on quizzes, enabling her to absorb the course material better. These were easy adjustments for me to make and made my courses more accessible for my students.
Pay attention to access
Constantly being on the alert for access considerations, especially in new environments, is tiring and a huge drain on time and energy for anyone. This can be especially alienating to junior scholars. If you have tenure or high status in your profession, leveraging your privilege to be an ally on issues of accessibility at conferences can help support those hesitant to speak up. For example, will the childcare at the conference be physically accessible? What about lactation rooms? Support the option for online – or at least hybrid – conferences, which makes conference attendance much more accessible to women and people with disabilities, who may find it more difficult to travel. If you are a principal investigator setting up a new research group or involved in space redesign, you can advocate for accessible laboratory spaces.
Create community
Encourage an approach that views mentoring as a network model, where different needs are met by different people. If a mentee indicates an interest, try to connect her with mentors who also identify as disabled. I have included networks of disabled academics at the end of the article. On campus, if you identify as a woman or a disabled academic, you can start a faculty or student group to share experiences and provide peer mentoring. If you don't identify as a woman or person with a disability, there are still steps you can take to build a sense of community and belonging. For example, you can include examples of women with disabilities in your classes – cite them not as heroic overcomers, but as everyday examples of academics. There are several sources for profiles of academics with disabilities, including The Mind Hears.
Disability is diversity. So is gender. The intersection deserves to be included as part of the conversation happening as our universities and colleges move forward to building more inclusive campuses. Engaging in even one of these steps – along with opportunities to be an ally in efforts for institutional change – will help the move in that direction. The rewards are plentiful. Not only will you get the opportunity to support a budding young scholar, but she may bring unique perspectives thanks to her identities.
Molly M. King is an assistant professor at Santa Clara University.
If you found this interesting and want advice and insight from academics and university staff delivered directly to your inbox each week, sign up for the THE Campus newsletter.
Standfirst
Inclusive teaching and mentoring practices that support women with disabilities to succeed in higher education, while improving access for all students, shared by Molly M. King