View
Image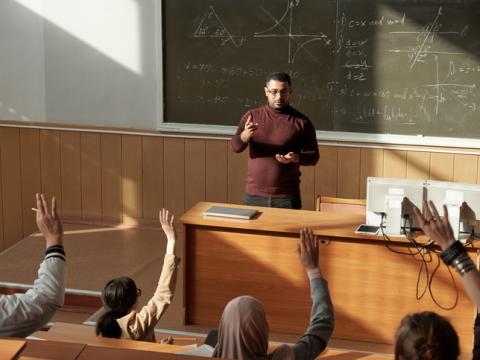 Main text
Hello, this is Dr Basim Al-Qargholi. I am a lecturer at Al-Mustaqbal University College in Babylon, Iraq. I am teaching two modules, electrical circuit laboratory and computer skills and computing, in the department of biomedical engineering.
Today, I would like to talk about how I figure out if my students are bored in my class and how to overcome this problem.
So, giving a lecture on any topic can be challenging, especially when students lose interest. Handling the classroom is tricky when they seem inactive on the topic you are presenting, which in the end affects their performance and learning. It may also be followed by a fall in grades and late submission of assignments and homework.
Getting students back on track is slightly difficult when they reach this point, so in order to avoid or to overcome this problem, first we may ask ourselves how to know if our students are bored in our classes. To know that, simply try to observe his and her behaviour: when students used to be active in previous lectures and you start noticing considerable change, especially when they have to pay attention for hours without getting the chance of participating.  
So, some students after some time will not be able to pay attention, so they are pretending to listen but in actuality they are not. They are physically present in the class but mentally not. Some younger students may express this by acting abnormally, trying to call attention to themselves.
So, it's essential to let your students participate in the lecture and use all four skills – speaking, reading, writing and listening are very beneficial to keep them on track. Involve the students in discussion by opening controversial topics and relate your exercise to real life. For instance, use the name of a bored student in the class in a scenario of an exercise to call his attention and bring him back in this way. Employ different resources, like magazines, newspapers and online tools.  
Most significantly, allow yourself to improvise from time to time and do not be afraid to put the book away and teach more freely and dynamically.
As a lecturer you should be concerned about your students. You may ask after the lecture if something is bothering them. Students sometimes have a personal problem which affects their concentration in the lecture. So, talk and listen, and then let them feel free to speak in confidence. Try to gain the trust of your students – it makes it easy to encourage and motivate your students to be actively participating. 
So, to become a great teacher, you need to entice your students to be participative and responsive in the lecture. And before you can develop a creative teaching method or approach, you must carefully observe your students.
Once you notice that the students are bored and they are not concentrating on the lecture you are giving, do not be disheartened. Find ways to get them back, and call their attention and help them to realise the value of learning. Thank you.
Basim Atiyah Al-Qargholi is doctor of engineering in the department of biomedical engineering at Al-Mustaqbal University College.
If you found this interesting and want advice and insight from academics and university staff delivered directly to your inbox each week, sign up for the THE Campus newsletter.
Summary
This video will cover:
01:06 The signs that tell you students are bored in class
02:05 Ways to re-engage your students
02:54 Don't be afraid to improvise
Standfirst
In this video, Basim Al-Qargholi explains how to spot the signs that university students are not paying attention in class and offers tips for getting them back in the room