View
Image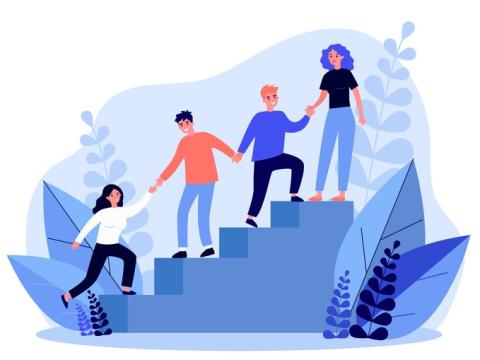 Main text
As a group of new academics teaching into a new Allied Health Programme, the transition from our clinical settings into the classroom was a challenge. We are experienced practitioners from the areas of physiotherapy, occupational therapy and speech pathology, but new to teaching in higher education. Reflecting on this experience has highlighted how the skills we developed in our professional lives have helped us build effective relationships with our students.
Relationships matter in learning
The relationships we build in our professions and those we need to build with students are all underpinned by connection, rapport, trust and care. These are the hallmarks of relationship-rich education. The importance of relationships for student learning in higher education is well established, with Kathleen Quinlan making the case for this approach back in 2016 and Peter Felton and Leo M. Lambert demonstrating its importance in their 2022 book, Relationship-Rich Education.
Building rapport and gaining trust
In a professional setting, the ability to quickly develop rapport and gain trust is pivotal to success. Similarly, as teachers we need to maximise student engagement by using interpersonal and relationship-building skills to form a connection. It's crucial that we express a genuine interest in students' learning journeys. This requires a shift from seeing ourselves as purveyors of knowledge to understanding our role as facilitators of engagement and learning. We need to have a greater focus on motivating, fostering engagement and maximising students' potential. Simple strategies include providing praise and recognition of achievements, plus taking the time to actively listen. These all make a world of difference.
Engage with empathy
Another skill that transfers well to teaching in higher education is the use of therapeutic modes, which are used to meet the unique needs of clients. You don't have to be a therapist, however; you can enhance your relationship with students by turning up your powers of empathy. Starting with a focus on building connection and trust, consider the hidden burdens that could be impacting a student's learning. For example, if a student seems to be anxious about making a presentation, you would provide support that focuses on their learning, rather than on their anxiety.
Being comfortable with the uncomfortable
A final skill from professional experience is considering the human being in front of us before we can fully engage. Learning and teaching is messy: everyone has their own baggage that shapes who they are and how they act. Teaching should be about creating the space for exploration, participation and contribution, and this requires us to be attuned to our students, understanding who they are and how this influences their engagement.
Students will have preconceptions about the learning experience and we should strive to create a learning environment that accommodates these. We cannot force learning, but we can be consistent in providing the space and opportunity for participation. Yet, even with this relational approach, education can remain challenging and uncomfortable. Creating the space to join in and supporting students with this discomfort enables both the learning process and, hopefully, growth beyond education.
Hospitality as a guiding ethic
All these professional skills that can be transferred to educational settings display an element of hospitality. This isn't the same concept as when a guest incurs a debt by accepting the host's hospitality; we are not aligning students with customers. However, we argue that the arrival of the guest (that is, the student) in the learning environment enables us to act as hosts.
We might not know who our students are or what they will need before they enter this space, but we must be open to them and take on the role of host whoever they are. We shouldn't just cater for different needs but actively make space for students to contribute on the basis of the differences they bring. It is about being open, welcoming what our students bring and incorporating this into our teaching practice.
This approach opens us up to the unique pressures experienced by our students and which exert considerable influence on their ability to engage with their studies. By understanding this constellation of experiences – and by making ourselves available for dialogue that is supportive, nurturing and that displays a genuine interest and concern – we believe learning is transformed from didactic, isolated moments to a continuous, connected and socially meaningful experience for our students, but also for us as educators.
Charles Marley is a senior lecturer and academic lead of learning and teaching, Cameron Dickson is an associate lecturer in physiotherapy, Eliza Huppatz is a lecturer in occupational therapy and Sally Morris is an associate lecturer in speech pathology, all in the School of Allied Health Science and Practice at the University of Adelaide, Australia.
If you found this interesting and want advice and insight from academics and university staff delivered direct to your inbox each week, sign up for the THE Campus newsletter.
Standfirst
Teaching in HE is daunting for new academics, but interpersonal skills honed in the workplace provide strong foundations, say Charles Marley and colleagues