View
Image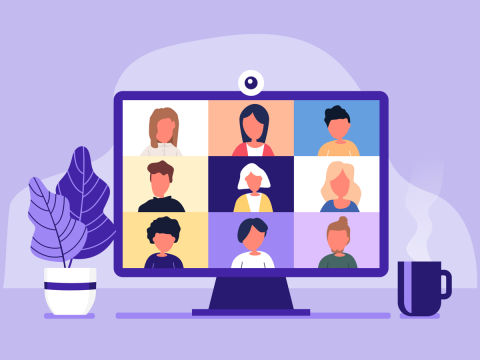 Summary
This video will cover:
00:25 Ensuring all students and staff understand the correct etiquette for online meetings
00:59 Key things to consider in order to protect the confidentiality and privacy of meeting participants and their households and the content of discussions
02:20 What to do when concerns are triggered during online meetings
Transcript
I'm Dr Matthew Davis. I'm an associate professor and chair of the Business, Environment and Social Sciences Research Ethics Committee at the University of Leeds.
Today, I am going to take two minutes to talk to you about some best-practice ideas for running successful online meetings and video calls with students. Some things to think about:
So, first I think it's really important that we ensure that everybody has clear ground rules and an idea of good etiquette for online meetings and calls.
So, for both staff and students to understand what is an acceptable and appropriate location to call from. So, not in the middle of bed, not surrounded by other people in a noisy environment.
But also that people are dressed appropriately, so no revealing sleepwear, not turning up in your dressing gown – approaching this issue as you would a meeting on campus.
And also just think about how do we encourage people to keep control of the meeting?
Encouraging staff and students to think about what is visible behind them – are there pictures, photographs that show their children, or the partners, their domestic situation that might give away more information or details than they are comfortable with? And also that might give away their location from a safety aspect as well.
And thinking about privacy – thinking that most students and staff won't be living alone, often there will be others around them – so making sure the people they live with understand when there are meetings or calls that they may be overheard or viewable. So they're aware that things they do might be witnessed by others and that they're comfortable with that or if not, that they should be elsewhere.
We should also then ensure that if we're sharing confidential information or having private discussions with colleagues or students, if others may be around them and they are in earshot, that we ask people to use headphones and headsets before we start sharing that information.
Similarly, in terms of control, making sure that we agree ground rules at the start of a meeting over whether it can be recorded and we don't allow people just to record as they like as they go through.
If a meeting is to be recorded, where is that going to be stored? Who else is allowed to view it? And when will that be deleted?
We also need to think through, well, what would we do if we feel uncomfortable on a call? How would we end it? How would we make the other person realise that we're not happy, so either it was something they've shared, they've said or something we've seen and then who do we also report that to, to protect ourselves after the call?
Then, finally, when we conduct video calls and online meetings, we're likely to get insights into people's lives in a way we wouldn't if they came onto campus. So, we might see things and be party to more information than usual. So, what do we do if we have a concern about something we see, for a student's welfare, or for those they live with?
Again, it's being clear about who in student support or elsewhere in the university we might need to share that with and how we talk to the student about that, too.
This video was produced by Matthew Davis, associate professor at Leeds University Business School and chair of the university's Business, Environment and Social Sciences Faculty Research Ethics Committee. 
Standfirst
New digital teaching methods risk exposing personal and sensitive information among students and staff. Here are best practice tips from Matthew Davis on running safe and secure online meetings and calls