View
Image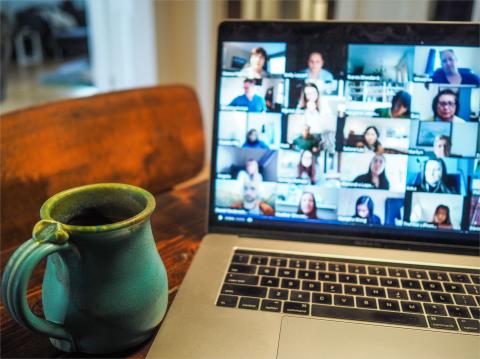 Summary
This video will cover: 
00:57 Facilitating student-to-tutor interaction when teaching online 
02:40 Encouraging student-to-content interaction online  
03:41 Supporting student-to-student interaction in online classes 
Transcript
Hello, I am Miral Gibson, the deputy director of education at the University of Roehampton business school.  
And in this very short video, I'll be sharing with you how the University of Roehampton business school transitioned into remote learning and the online world and, in particular, I'll be talking about how we try to create an online learning community for our students in that new environment.  
Now, just like learning and teaching, we really think that building an online community is pedagogy-led. So, we have to think carefully about how we're going to manage the relationship between technology and pedagogy.  
And we really wanted to hit all of these elements of interactions that exist within the learning environment – what really make up the learning community.  
So, we looked at three elements of interactions:  
The student-to-student interaction 

The student-to-tutor interaction and then  

The student-to-content interaction.  
Now, in terms of the student-to-tutor interaction we really wanted to create an educator's presence and we wanted to make it fun but simple.  
So, we used a number of digital apps for recording – both video and audio apps. Some of the video tools that we've used are like Panopto, Screencast-O-Matic, which I'm using right now.  
We used podcast tools like Vocaroo and we really introduced ourselves to students before they even joined the course.  
So, our virtual learning environment was built with that space, where students could go in and see who they'd be interacting with before they even started.  
And that, for us, was really important because it minimised the levels of uncertainty that could be related or associated with virtual learning or even a new way of learning. It also established the first connections within that online world.  
We also wanted to make sure that we had very good visual presence, so we've uploaded photos of ourselves and we made these personal and more human.  
So, we uploaded photos of us with our friends, with our family, with our pets, doing our hobbies. And, in that same space, there were also opportunities for students to upload their own photos and also tell us a bit more about themselves. But also chat with us and speak to us.   
So, I'm now just going to share another screen with you. This is an example of our colleague who had a photo of himself and his daughters at a Rammstein concert under the "Meet your module  team" heading in our Moodle, and this is the link where students could chat with Steven. 
Now, in terms of the student-to-content interaction, we all had teaching content, so we were not trying to reinvent the wheel. But the only difference is that the interaction with the content online is slightly different, especially when it is asynchronously taught.  
So, some of the asynchronous material provides students with the opportunity to access [it] anywhere at any time, so we really wanted to create these opportunities whereby students could stop and reflect and interact with the content.   
So, we used a number of audio and video material, like Youtube links and podcasts, and we embedded in these some polls and quizzes using tools like Kahoot!, Mentimeter and Padlet.   
And all these provide different opportunities for students in asynchronous as well as synchronous teaching, so that they can reflect on some of the knowledge they gained, and start engaging with the material through reflective practice.  
And, finally, our third element of interaction is the student-to-student interaction.  
And this is where we use the number of discussion forums, which is absolutely fantastic because it gives students the opportunity to create quality responses, and that makes the connections in the online learning environment more meaningful.  
Padlet is an absolutely fantastic tool as well, where students could be more creative and upload their own videos, upload their own audio links.  
And this is how we created an inclusive environment online, where everybody could feel safe, and that was built on trust and respect.  
I'm very happy to talk about any of these in more detail in the future. Thank you very much for listening. 
This video was produced by Miral Gibson, deputy director of education at the University of Roehampton Business School. 
Standfirst
Creating a sense of community among students via digital platforms is a vital component of effective online teaching. Here, Miral Gibson explains how fostering this welcoming inclusive online learning environment should be pedagogy-led