View
Image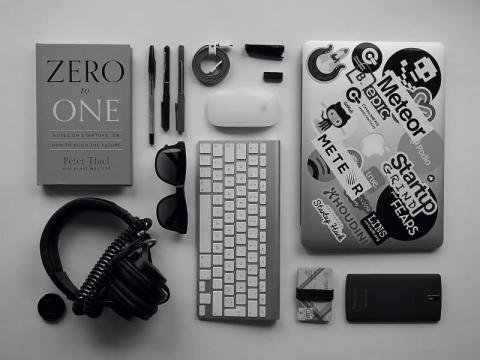 Summary
This video will cover: 
00:58 An introduction to the four Es as a way to consider how best to build your digital capacity 
02:21 Digital enrichment and digital enhancement explained    
05:08 Digital extension and digital expansion explained 
Transcript
Welcome to the digital transformation initiative video series. I'm Dale Johnson, I'm the director of digital innovation at the University Design Institute at Arizona State University and I'll be talking to you today about digital teaching and learning.  
That is one of five subjects that we focus on in the digital transformation initiative.  
So we're looking at leadership in culture, teaching and learning, instructional infrastructure, student services and partnerships as part of this package. And in each case what we want to do is help you build capacity to thrive in this changing digital environment.  
We will focus today on teaching and learning and we'll be talking a lot about how to build capacity for your organisation in this space. The question that we get asked frequently is: where should we focus our efforts in the use of digital systems and resources to enable student success?  
That's a very complex question. So today I want to offer you a framework to think about this issue and help you understand how to manage in the digital space. The objectives for the video are to provide a framework for discussing that, to explain how these systems and resources are being used in some examples, and provide some potential benefits for each opportunity.  
And we've broken these into four different areas. We call this the four Es. We talk about digital enrichment, digital enhancement, digital extension and digital expansion in teaching and learning.  
When we think about this, we think about the impact, the complexity and the cost of these areas, looking at these as a variety of options that your organisation has. So we think about something like impact, from tactical to strategic, when we talk about complexity, from low to high, and cost, from low to high.
And as I talk today about the examples of each of these, you can start to think about ways that your organisation could implement.
Now I'll talk a little bit about each of these areas in more detail, so that you'll have some examples. When I talk about digital enrichment, I'm really focused on the enrichment of an existing campus-based course.  
Many of you have a learning management system, a Moodle or Canvas or Blackboard, and you've already begun placing your syllabus, reading material, videos, activities, assessments into that digital environment. So that is the first step in the digital teaching and learning transformation.
Digital enhancement is the use of technology to begin to transform your pedagogy. If you think about how to employ the instructional resources, you can use a hybrid model to blend your in-class instruction and your active learning.
Here we talk about not just adding material to your LMS, but changing the relationship between what students do online and what they do in class. And we use Bloom's taxonomy as a way to describe these different opportunities. I like to think of this as finding the proper tool for the proper job.  
The Bloom's taxonomy allows for a reference for how you can organise that. When you think about the basic Bloom's remembering and understanding, we can use the online instructional materials, and then in class you can focus on higher-order Bloom's and engage the students in more active learning.
So this is a transformation that allows you to eliminate large lectures. We would replace them with video of all of those instructional materials and in class we can focus on the small group work and active learning. So the role of the professor changes from simply being a lecturer to leading the students through these active learning exercises.  
When we did that at Arizona State University in an introduction to biology course, what we found was that the withdrawal rate dropped dramatically. We attribute this to the social networks that the students are developing as part of that in-class active learning experience. 
In addition, we found that the success rate, that's a grade of C or better in their course, went up dramatically and we attribute that to the accessibility of online instructional resources. And the students can watch a video lecture repeatedly if they don't understand something, they can also go back and redo exercises as needed. The combination of this transformation in the technology and the pedagogy gives us both of these benefits.
When we talk about digital extension, we're really looking at taking the physical learning environment and adding a digital learning environment to it. Moving from formal to informal learning. And we can capture that by thinking about this as offering an alternative version of a course for students.
This version would take that physical learning experience, translate that over to the online environment and offer the students the option. This remote learning has been necessary as part of the pandemic and what we found is the opportunity to extend the learning process has helped a lot of students continue their education when it was impossible to meet in a physical classroom.
The final area is digital expansion, and this is where we're talking about a fully online degree program with no requirement to come to campus at all.
Arizona State University began doing this about 10 years ago and you can see here that the growth in online students has been dramatic. As students have become more accustomed to online learning, they have gravitated towards these kinds of experiences.
One example for us was the BioSpine, which is a Bachelor of Science in Biology degree, and we've integrated all of the student courses into one environment, so they don't ever have to come to campus and even their lab experiences are online.  
This is the future opportunity that you can consider as part of this spectrum of online digital teaching and learning services.
Now to put all this together, these are not mutually exclusive, this is really a spectrum of opportunities for your organisation. And what we would encourage you to do is to evaluate your current capabilities in each of these areas and begin to analyse where the biggest benefits are for your students. 
When you think about that, there are some strategic questions to guide that conversation. Where should we focus our efforts? What are our digital teaching and learning objectives? How will we measure our progress towards our objectives? Who needs to be involved in this process? Are there academic, administrative, technological leaders that need to be involved in the development of each of these? What resources do we need to succeed, both human resources and financial? And finally, what are the first steps to success? How will you begin this process?  
Digital teaching and learning is the cornerstone of the transformation process in many institutions. As you think about the options and opportunities in digital teaching and learning,  I would encourage you to consider the framework and the questions as part of a starting point for that conversation.
Dale Johnson is director of digital innovation at the University Design Institute at Arizona State University.
Standfirst
Dale Johnson presents a framework to help institutions decide where to focus their efforts in the use of digital systems and resources to enable student success