View
Image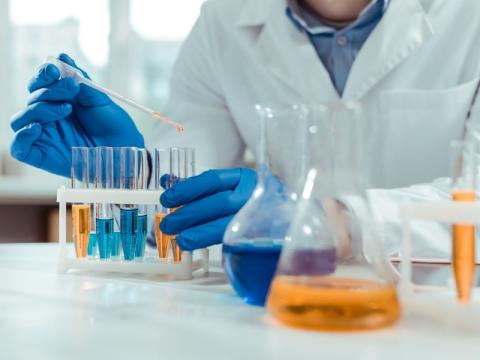 Main text
Knowledge exchange is becoming increasingly important at universities, with the focus no longer purely academic-based. With the Research Excellence Framework (REF), and impact case studies being required, there is increasing attention on knowledge exchange activities. Traditionally, knowledge exchange meant an academic doing consultancy or local analysis, but this is becoming much wider reaching. One example is our student-led consultancy, The Chemistry Clinic, which works with small to medium-sized enterprises (SMEs) as well as larger businesses to support projects requiring chemistry expertise. With direction from a specialist academic, master's students conduct lab work on behalf of clients.
The University of Strathclyde has always upheld the ethos of being a "Place of useful learning", with the strategic objectives seeking to provide knowledge exchange opportunities for students. The department of pure and applied chemistry led the way with The Chemistry Clinic established in 2013. For a successful student knowledge exchange collaboration, the following fundamentals of engagement need to be considered:
1. The size and scale of the project. Student input needs to be measured, with expectations and input adjusted according to the specifics of each project.
2. Successful knowledge exchange needs teamwork. Chemistry students usually work alone in teaching labs in the earlier years of their degree so the team dynamic needs to be supported and cultivated.
3. A change of mindset. The students require training and support to open their eyes to experiments having no "correct answer". When doing an experiment for the very first time, problem-solving skills and initiative are paramount.
4. Guidance is required for students to consider commercial factors that could impact science-based problems, including lead times, sourcing materials and safety aspects for scale-up.
5. Tailoring communication depending on the audience. With such a variety of expertise from stakeholders, students need to adjust their communication accordingly. Inventors and SME collaborators typically bring a wide range of expertise to the projects, often market specific, but rarely chemistry based, hence their desire to work with The Chemistry Clinic. This means students must avoid over-technical language unfamiliar to non-chemists.
6. The client company may be dealing with other commercial issues, and one way we meet this head on is through interdisciplinary collaborations. One example is The Chemistry Clinic's established relationship with the marketing department.
7. Challenges around intellectual property (IP) need to be considered. Appropriate documentation for IP and confidentiality needs to be put in place. Guidance is delivered by our commercialisation team to ensure this is all organised.
8. Funding mechanisms should be secured before starting the project. Projects can be supported through a range of channels, from small grant-based systems for inventors to being funded directly by the collaborator, where it is a large business.
9. Full-time versus part-time projects. The Chemistry Clinic has found that working on a few projects on a part-time basis is the most efficient use of the resources available. Not only does this offer students the opportunity to work on a wide range of projects but it alleviates down-time which may arise in the projects from sourcing materials or securing instrumentation time.
10. Drawing in other activities. Baseline activities may be required should the ebb and flow of demand leave the students under-occupied. Another opportunity to consider includes public engagement work. The Chemistry Clinic team are trained as STEM ambassadors, visiting schools and inspiring young people, as well as supporting undergraduate recruitment activities at the university.
11. Assessment criteria may be necessary. The Chemistry Clinic is a credit-bearing placement year for the master's students and therefore assessment criteria are essential. Our students are assessed through a range of activities and evaluated against a matrix of skills including communications, initiative and creativity, as well as formal submission of a literature review and reflective report.
12. Alignment with United Nations Sustainability Goals. As well as working regularly on innovative eco-friendly materials and packaging, The Chemistry Clinic also strives to meet social aspects such as a quality education with no inequality, in particular through STEM outreach activities with local schools.
From self-reflection and tutor-based evaluations, a significant increase in confidence and communication skills is noted consistently with the student team. Clients regularly report back how much value they gain for their business, from learning and interacting with staff and students as well as acquiring a fresh perspective on multiple facets of their business.
Sharon Ingram is The Chemistry Clinic manager at the University of Strathclyde.
If you found this interesting and want advice and insight from academics and university staff delivered direct to your inbox each week, sign up for the THE Campus newsletter.
Standfirst
What basics must be considered in order to build a successful student knowledge exchange project? Sharon Ingram shares insight based on supporting a student-led chemistry consultancy