View
Image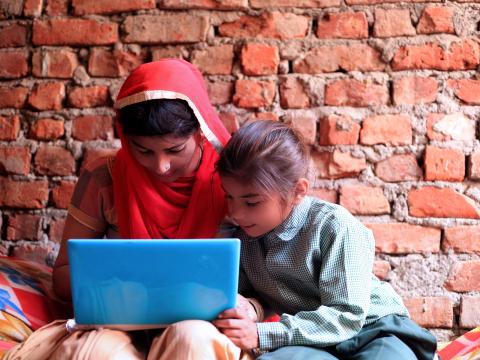 Summary
This video will cover: 
01:13 Using mobile phones as online learning platforms 
02:07 Providing remote students with what they need to access learning 
02:43 Offering psychosocial support to students now learning online 
Transcript
Greetings from Ghana, my name is Angela Owusu-Ansah.
I am a professor in behavioural statistics. I serve as the provost of Ashesi University in Ghana, where our mission gives us the privilege to nurture academically brilliant students, half of whom are on a needs-based scholarship.
In the current era of digitisation, we have had to consider how best to reach our students in the remotest areas and who also have limited access to technology.
We have also been determined to make sure that whatever we do is equitable. This has led us to reimagine and repurpose what we do have.
Paradoxically it is within the constraints of teaching online that we have been free to innovate.
We have considered the savings we have made on campus, because we no longer are on campus and so do not have to pay utilities or internet service. We've also considered the students in the remote areas whose only technological device is their mobile phone.
And so, we have reimagined what teaching is by asking our faculty to record their teaching into a series of asynchronous links.
And we've asked our students to repurpose their phones and turn them into learning management systems where they have uploaded or have the app WhatsApp, which is a freeware course platform that allows them to receive what the faculty send, download and do the assignment by hand, take a photograph of it, upload and send it back to their professors for grading.
We have also rethought how best to spend the funds that we have, the savings that we have. And so, we provide faculty and students [mobile] data and then we also have, in some cases, provided some students with a phone or given them a laptop on loan.
And then we've also used some of that money to rent adequate housing in town for the students who live in the remotest areas.
And then we have re-fortified our nurturing by putting our students in groups and assigning our counsellors and our life coaches to provide psychosocial support.
We have another team of students who serve as our hotline team, whose responsibilities include monitoring inactivity of students. And what they do is whenever they notice the student has not been online or submitted an assignment, they reach out to the student to determine how best to support the student. So, what are the results?
We have been able to provide equitable teaching and learning.
We have on average absenteeism of two percent and our parents and students understand why our tuition remains the same, and faculty and students have become more resilient, a trait necessary for the new normal.
We are in the business of the learning of others and during this period we have realised that now more than ever, our teaching and learning is amplified. Thank you.
This video was produced by Angela Owusu-Ansah, professor in behavioural statistics and provost of Ashesi University, Ghana.
Standfirst
Angela Owusu-Ansah of Ashesi University in Ghana explains how her institution has tackled this problem to ensure all students can access teaching online