View
Image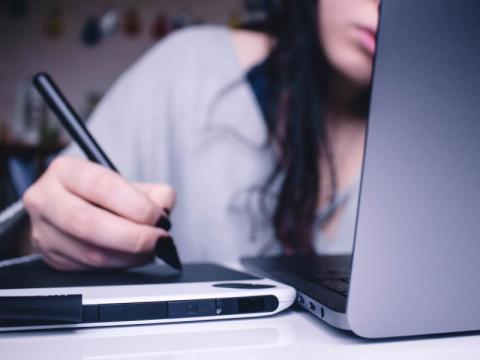 Summary
This video will cover: 
00:38 Thinking about access from the start of your course design process 
01:49 Offering students multiple ways to engage with course materials 
03:11 Thinking about access as an ongoing process 
Transcript
Hello, everyone. I'm Clare Mullaney, an assistant professor of disability rhetoric at Clemson University. I'm here today to chat briefly about how to design online courses to ensure that they're accessible to disabled students.
In the shift from in-person to online teaching, we're given the opportunity to reflect on the course practices and procedures that enable some students, while disabling others.
I have three tips that I want to share with you today, and these will be featured on the slides.
So, first, I want to encourage instructors to think about access from the beginning of course design.
In other words, don't wait for requests from specific students with disabilities to ensure that your course is accessible. An easy place to start is to ensure that all digital readings are OCR [optical character recognition] searchable, which benefits students who are blind or visually impaired and use screen readers but also students with dyslexia and other learning disabilities, who prefer to hear texts read aloud.
I imagine, too, that such PDFs benefit anyone struggling with the strain of using their computer for an extended period of time.
Second, when you're designing your syllabi, you might think about how to incorporate flexible deadlines, which prove beneficial for students with chronic conditions who may not be able to predict when they can or cannot complete their work, according to the pace of the class.
One of my graduate students, Kimberly Groves, gives everyone a two-day buffer in which to submit assignments. So, there's a deadline, and then everyone has the opportunity, if they ask for an extension, to extend that deadline by two days.
My second point is to offer students multiple ways to engage with course material. One of the benefits of online teaching is that it enables instructors to expand their understanding of what constitutes participation.
So don't just require that your students speak aloud in a Zoom call but make use of the chat function, a really creative option for the ways that students can express themselves online, but also other asynchronous forums, which can bring quieter students into conversation.
You also want to give students the opportunity to take notes on the class and to share those notes with fellow classmates. So for live sessions, I often recommend assigning a designated class note-taker who contributes to a communal Google doc and I find that this ongoing document is helpful for students who miss class, or for those who struggle to process what happens orally.
You also want to try to give students the opportunity to showcase different knowledge in the course. As someone who teaches in an English department, I often require conventional scholarly papers but also allow students the opportunity to express other kinds of knowledge through projects that have less rigid expectations.
And finally I want to stress that access is a continual negotiation between students and instructors. It's best not to think about accessibility as a checklist, right, that your course is either accessible or it isn't. But instead to understand access as an ongoing interaction whereby students' and instructors' needs shift across the course of the semester.
So many of us do this already, but it's helpful to start the semester by distributing a survey that asks what helps your students learn and what hinders this learning. This is one way to figure out what works best for students, without requiring that they share a specific diagnosis with you.
Such questions also give students the opportunity to think carefully, perhaps for the first time, about how they learn and what they need to do in order to learn well.
Secondly, it's good to check in with students midway through the term, to find out what's been facilitating their learning and what's been inhibiting it.
This conversation can be staged through a mid-term course evaluation, which I know a number of us use in our courses already, but it can also be done by sending a quick individual message to students throughout the term. You can then make changes to the classroom assignments and policies based on this feedback.
So, again, thinking about this syllabus not as a rigid document but a flexible one that's shaped around students' needs.
And then, finally, I suggest starting small, pragmatic discussions about how to be an online student in this virtual realm.
Right, all of us as instructors are learning how to teach online and students are learning how to learn online, so it's helpful to pause and ask questions, either on Zoom or an asynchronous forum, such as: How do you stay on top of your shifting schedules? How do you reduce screen time? How do you stay focused? How do you stay motivated?
In extraordinary times, it's crucial that we don't just proceed with coursework as usual but reimagine more ethical approaches to teaching and learning.
This video was produced by Clare Mullaney, assistant professor in the department of English at Clemson University.
Standfirst
Online learning offers opportunities to widen accessibility for disabled students through careful course design and delivery. Clare Mullaney shares three tips to ensure your digital teaching is accessible to all learners