View
Image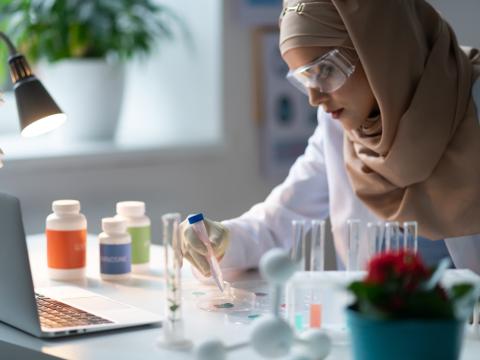 Main text
A systemic barrier to pursuing research as a career is accessing research experience as an undergraduate. Research placements offer students a chance to actively learn and apply knowledge. Students develop practical, transferable skills, enriching their CVs. Placements provide an opportunity to build meaningful mentoring links with academic staff.
However, there are several barriers to gaining such positions. Many are informational. It is often unclear how to apply for these positions, as they are often offered on an ad hoc basis or involve directly emailing supervisors. There is little clarity on what supervisors want from students, or what they offer. Students also complain about receiving little to no feedback when they are unsuccessful, which does not allow them to refine future applications. These issues particularly affect students from minoritised groups who do not know the hidden rules. Another barrier is that these positions are often voluntary, thereby excluding students who cannot afford to work for free.
To counter these informational and financial issues, a team of us established an undergraduate research bursary scheme in our department. This involved three key elements:
1. Standardising and anonymising the application process
A call went out to potential supervisors to advertise a position within their lab, using a standardised format in which they outlined what their lab did, what the role would involve, and what specific skills were required from students beyond grades. The adverts were made available to students at the start of the academic year, which allowed them to see the breadth of opportunities available in the department.
The call for students showed timelines for applications, interviews and decisions, including when they should expect to receive feedback. Students applied by submitting an anonymised cover letter and CV, and a separate equality, diversity and inclusion (EDI) form for audit purposes. Supervisors did not have access to the EDI form.
Participating supervisors agreed to review all applications anonymously at the shortlisting stage and to provide brief feedback, ensuring that all applicants received some feedback. Template feedback was made available for supervisors to minimise workload. Supervisors were also asked to provide more detailed feedback after interviewing shortlisted candidates.
2. Guidance and training for students
We collated detailed guidance on how and why to apply for these roles. We organised a training event about the role and the application process. The panel of academics featured in this event showcased the diversity of work and academics in the department. We also recorded a podcast featuring PhD students who had sought research experience. Through these channels, we covered common issues such as mitigating the impact of poor grades, and what to highlight on applications. We also provided students with a sample cover letter and CV, and a written list of tips and tricks on how to put together a good application.
3. Providing a financial incentive
Having advocated for departmental funding, we received a generous budget of £5,000 and consciously decided to support a large number of students. Students selected for positions were awarded a small research bursary of £250 by the department. Despite the relatively small sum, bursary recipients have commented on the value of the financial incentive offered. The bursary helped students reduce hours committed to part-time work, paid for travel and commuting expenses, and provided them with an opportunity they wouldn't have otherwise been able to pursue.
The scheme considerably widened participation. More than 120 students applied for these positions. We awarded 20 bursaries, supporting the research of 15-plus supervisors in the department, many of whom do not typically recruit research assistants. Several students also chose to pursue voluntary opportunities within labs.
The scheme has several advantages over the ad hoc nature of advertised placements:
The standardised process makes research placements more transparent and inclusive, as it highlights what is on offer and how to apply.
Setting up a blind recruitment process minimises potential biases (ie, supervisors preferring students who were more like them) and puts the focus squarely on a candidate's skills and knowledge.
The scheme allows students to practise applying for jobs, creating a formative learning experience. Even if students are unsuccessful, they are encouraged to seek support from personal tutors and the careers service.
If students are successful, in addition to the financial incentive, the bursary clearly recognises and rewards the selective application process that students participate in.
Collecting EDI information from students allows us to audit potential biases in the process, in terms of who applies and who gets selected.
One of the most challenging aspects of developing such a scheme is determining a fair process for awarding bursaries. We awarded one bursary per supervisor, to give students the widest choice of projects, and supervisors some certainty. However, there are many other viable models, such as a lottery approach based on project, or prioritising by hardship. It also proved challenging to move supervisors away from a model based on grades, and to ensure that students anonymised their applications.
Students have found the research placements beneficial. Two students who took part in the scheme have been awarded competitive funded PhD positions, and many others have chosen to pursue further graduate study. We strongly support the wider implementation of this scheme, and are happy to share resources with academics interested in doing so. If financial resources are limited, an excellent start could be addressing the informational issues.
This scheme was developed, implemented and audited by Saloni Krishnan, Nura Sidarus, Ilham Sebah, Dawn Watling and Victoria Bourne, who received a Royal Holloway College Team Teaching Prize for the scheme.
Saloni Krishnan and Nura Sidarus are both lecturers in cognitive neuroscience in the department of psychology at Royal Holloway, University of London.
If you found this interesting and want advice and insight from academics and university staff delivered direct to your inbox each week, sign up for the THE Campus newsletter.
Standfirst
A barrier to research careers is accessing the relevant experience. Saloni Krishnan and Nura Sidarus outline a scheme that has helped a wider range of undergraduate students secure research placements