View
Image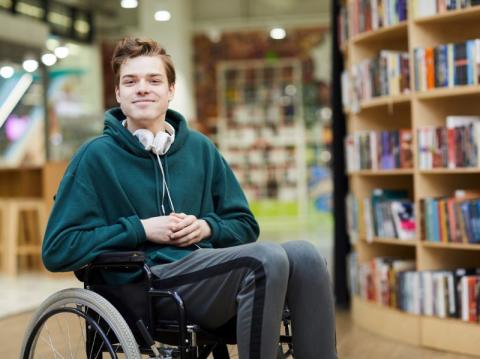 Main text
The number of students at university disclosing a disability is increasing, yet their continuation, attainment and employment rates are still lower than students who do not have disabilities, according to UK government statistics. Numerous factors make up this gap, and in many cases the pandemic has hindered disabled students, however there have been changes to certain practices or norms that have benefitted disabled students. As institutions begin the slow process of returning to a "new normal" it is worth considering what changes should be retained, to the benefit of students.
Rapid student support
First, the process of applying for Disabled Student Allowance (DSA) is lengthy and can often introduce delays in providing support for students, especially in the transition period to university where the drop-out rate is so high.
Instead, we have seen that student support can be triaged based on ease of implementation and made available to students straight away, while the administration work is completed in the background. This can be relatively easy for some support, such as handouts for lectures, or extended library loans. For example, a student with dyslexia could be given access to centralised computers with reading and productivity software, and the use of borrowed equipment such as voice recorders to cover the period of time until they have their own DSA-provided equipment.
Beyond this instant support, many institutions are looking at how best to improve accessibility across the board and incorporating it into the basic quality standards for courses or services they provide. Lecture capture is now widely used and course materials are increasingly compatible with reading software.
Student services teams are exploring the provision of quiet halls for students with anxiety, sensory rooms, live online chat help and better distribution of accessible bathrooms to make sure there is always one nearby. This removes barriers for disabled students, leading to a much better student experience, through the proactive and positive management of accessibility at every level of an institution.
New assessment methods
It is common for disabled students to need modification to traditional "sit-down" exams and assessments, causing disruption and difficulties. During the pandemic, new assessment methods were rapidly developed in a variety of formats such as open book and multiple-choice question exams, ongoing assignments, oral or pre-recorded presentations, and group projects.
Disabled students struggled less with adjusting to these new assessments than others on their courses, with many preferring the new formats, a survey by the Disabled Students Commission (DSC) found. In some cases, students were offered a choice of assessment method to evaluate their understanding, meaning they could pick the most accessible option to them. While having different assessment methods increases the administrative burden on the university, the effect on accessibility as well as student satisfaction and performance can make it worthwhile. Students told the DSC:
"Remote assessment removed barriers for me. It meant that I didn't have to do badly in an exam because I was feeling ill that day. I was able to do work from bed and felt more relaxed at home."
"I hate in-person exams. I much prefer being in a space I can control as it lessens my anxiety."
Technology-enhanced teaching and learning
Many institutions have installed the infrastructure to deliver online learning, in parallel to in-person teaching. This was out of reach for disabled students for many years because of the cost.
The same technology can be now used to record lessons, providing both synchronous and asynchronous learning material, further increasing the options for engagement and access. Flexibility of delivery not only helps disabled students, but those in full- or part-time employment, parents, commuters and carers, among others. This technology could be lost if not properly maintained and supported by teaching staff, so it is important to keep up training and improvements. By making materials and classes available online as well as in person, students can revisit parts of the lessons they haven't fully grasped, helping them progress academically.
Compassionate education
Lastly, the greater compassion and understanding shown across the higher education sector, with accessibility at the heart of student support, is essential. Minor reforms to policies and practices to be more flexible and supportive is key in reducing the attainment gap for disabled students as well as many other "non-traditional" student groups, for whom completing the traditional three-year in-person course is very difficult. For example, policies around extenuating or mitigating circumstances, and becoming more well-being centred are having a positive impact. These could be changes as simple as providing flexible deadlines, offering additional tutoring in areas where students are struggling or providing content in different formats.
In summary, this article highlights four areas of good practice adopted through the pandemic that are not only of great benefit for disabled students but for all students:
Action and support first, wherever possible

Providing a choice of varied assessment methods

Flexible learning delivery

Soft support and positive attitudes


 
But as always, the best way to ensure accessible learning is to engage with disabled students and get their first-hand experience on what is and is not working, and if changes have had the desired effect. New practices should be reviewed for their impact on different types of disabilities, to ensure no particular group is disadvantaged. For example, while online teaching can be of great benefit for students with physical or fluctuating conditions, without adequate captioning, it could present a large barrier to deaf students. There is rarely a catch-all solution which is why flexibility and choice is so important.
Sean Cullen is a doctoral researcher at Brunel University London and Student Voice Commissioner for the Disabled Students Commission.
Standfirst
Certain changes sparked by the reorganisation of higher education during the pandemic have benefitted disabled students and should be kept and developed in the long term. Sean Cullen outlines four key areas of positive change