View
Image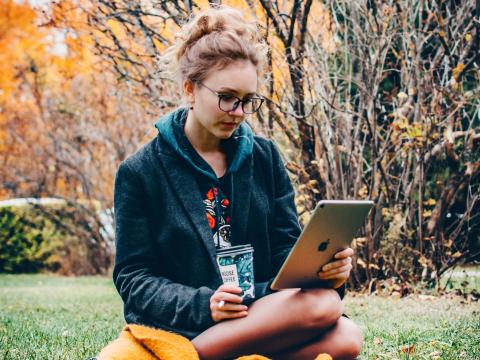 Summary
This video will cover: 
00:25 The impact of outdoor learning on students' engagement and well-being 
01:34 Embedding outdoor activities into your online teaching 
02:17 How instructors and students can take their classes and activities outside 
Transcript
Hi, my name is Aimée Little. I'm a lecturer in prehistory, material culture and experimental archaeology at the University of York. I direct the York Experimental Archaeological Research [Year] Centre.  
This outdoor space is used by students and researchers of various levels to replicate ancient technologies and crafts. Even prior to Covid, I observed the positive effects that learning outside has on students' engagement and well-being.  
During the Covid pandemic, the Year Centre has played a critical role in enabling students to continue learning, not just for practical sessions but also for seminars typically held indoors. With social distancing and safety measures in place, students can sit around a campfire and discuss archaeological theory, for example, without the distraction of digital screens.  
Many students have reported this outdoor classroom environment has contributed to their sense of well-being, providing a much-needed break from online learning. However, this form of blended online and outdoor learning is not always achievable.  
Across the world, universities which offer practice-based outdoor teaching, including fieldwork, have had to move online in response to the pandemic. Teaching staff, like myself, have had to think of innovative ways to deliver previously practice-based classes online.  
For archaeology, this has often involved a greater focus on archives. But with a move to online classes comes the loss of engagement with outdoor practice-based lessons and the sense of well-being, socialisation and greater focus that learning outdoors can often bring.  
For that reason, finding innovative ways for students to engage, even at a small scale, with outdoor activities can have a powerful impact. Such activities can be used to complement online classes.   
I found that encouraging students to undertake achievable practice-based learning outdoors has been invaluable for embedding knowledge and balancing out the sometimes exhaustive effects of online learning.  
At York, staff use phones, GoPros, webcams and other forms of equipment to record outdoor practicals. Students also use their phones or iPads to record short video clips of outdoor practical work, whether it be undertaken in their backyard or nearby green space.  
These short videos can then be shared in online seminars as a focal point for discussion.   
Students have also been downloading lectures as podcasts, listening to them while out walking, another useful way of taking learning outdoors.  
For archaeology, thinking about raw material sources and properties is essential to understanding the material world of our ancestors. During exercise breaks, students are encouraged to think critically and creatively about their natural environment, about how people interacted with it in the past.  
However, being in nature is relevant for so many other disciplines, too, and can be utilised for achieving pedagogical objectives and complement to online classes. It is perhaps worth remembering that not all learning experiences need to be pedagogically focused.  
With the pandemic has come an even greater need to consider our students' well-being and, indeed, our own mental health. With green spaces known to reduce anxiety and increase focus, spending time outdoors can help promote a sense of well-being, increasing motivation and the retention of knowledge.   
I saw a photo recently on social media of a lecturer giving an online class from the comfort of what appeared to be a forest. Whether this was for his own mental health or to provide a more stimulating Zoom backdrop for his students wasn't clear.  
What is clear, however, is that this new focus on e-learning need not stop us taking our teaching outdoors, even when teaching is online. 
This video was produced by Aimée Little, lecturer in early prehistory, material culture and experimental archaeology and director of the Year Centre at the University of York. 
If you would like advice and insight from academics and university staff delivered direct to your inbox each week, sign up for the Campus newsletter.
Standfirst
Being outdoors can offer both students and teachers dozens of benefits, from improved learning outcomes to better mental health. Here, Aimée Little talks about taking online classes outside