View
Image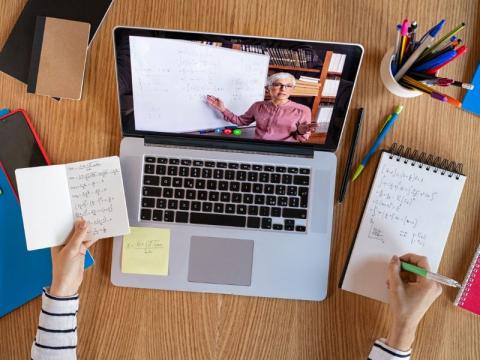 Main text
Today's higher education landscape involves the merging of traditional classroom instruction with virtual communication platforms to help students to fulfil their academic objectives. Students enrolled in activeflex courses, which combine active learning with hyflex delivery, have the option to attend classes synchronously or asynchronously, based on their personal schedules. The activeflex framework maximises the benefits of the hyflex philosophy, such as student choice and flexibility in scheduling and preferred learning modality, while solving its shortcomings. It does this by purposef​​ully incorporating engaging, collaborative active learning activities throughout the activeflex course.
As an activeflex technology and media specialist, my role is to support the smooth running of these technology-enhanced courses. Here I outline the key areas where support is most needed, to ensure instructors can focus on their teaching and students on their learning.
Activeflex class organisation and set-up
Taking into account course objectives and classroom structure, there must be consistent organisation across all teaching sessions. Support staff need to allocate time with an instructor before each class to discuss the learning objectives of the session and how they are going to be met. Carry out basic checks to make sure the class modules in the learning management system are working properly, alongside any external files or links.
Athens State University's activeflex courses allow students to attend different class sessions within any given module of a course, providing a great deal of flexibility. During a live session, use the chat function of Zoom to identify which students are attending, so course leaders have oversight of all students' learning progress. Someone needs to monitor the waiting room for late arrivals after the class begins until the cut-off point for admission.
For effective technical support, a competent work set-up is fundamental. For instance, a dual computer monitor aids workflow. Zoom can display the participant's tab and chat tab on separate screens, both of which be viewed simultaneously with an auxiliary computer monitor. Alongside Zoom, have the class content displayed at all times to check the session itinerary is on track.
Once the class has concluded, send a follow-up via email to the instructor regarding attendance, content, and technicalities. This can help generate solutions to any issues that may arise when supporting future classes. Facilitating a hospitable environment for instruction and learning is imperative for activeflex.
Technical assistance during a live class
A technical assistant should act as a co-host during live Zoom sessions, to provide competent support for instructors and students. This involves operating audiovisual equipment, maintaining Zoom functionality, and monitoring instructional content. As a co-host, the following tasks are necessary to assist in a activeflex class session:
managing connectivity with classroom technology such as webcams, microphones and touchscreen displays;
troubleshooting audio and video with instructors and students;
clarify how screen sharing in Zoom works and how to incorporate it into active learning;
deliver prompt resolution to any questions regarding class activities within Blackboard;
train instructors and students so they can operate classroom technology.
Students can launch Zoom from different devices and operating systems. There are subtle variations in Zoom when operating in Microsoft Windows or Mac computers so be aware of this when supporting a class. For example, a student may have difficulties allowing a screen share and granting permissions to screen share will differ with each operating system. Tech support staff need to get to know the different accessing platforms being used.
We developed a prototype activeflex physical classroom where students can attend in person and be joined by virtual students. Breakout tables have been installed where in-person students can work with students attending online. Each breakout table has a computer, monitor, USB microphone, and webcam that students use to complete class activities. Monitoring the audiovisual signal of the instructor's host computer, touchscreen display and breakout tables in correlation with the live Zoom session is fundamental to making these classes work. A firm handle on the classroom technology and Zoom functions will deliver a positive learning experience for all.
Encouraging active instruction and learning
The goal of effective tech support is to encourage classroom cooperation and engagement. This means smooth and clear communication between instructors and students, including public and private messages in the chat tab.
A positive experience with Zoom breakout rooms for classroom participation is vital for successful activeflex learning. Students are encouraged to turn on their cameras and microphones to promote class interaction while working in the breakout rooms. Checking all cameras and microphones are working properly will help. Students may not be aware of technical glitches, so it is important to take a proactive approach when supporting a class. Visit each breakout room to check the class activities are running as planned.
The goal of activeflex is to provide instructors and students a space for traditional, synchronous and asynchronous learning. The smooth running of supporting classroom technologies is crucial to this experience.
Grayson Simmons is an activeflex technology support and media specialist at Athens State University.
If you found this interesting and want advice and insight from academics and university staff delivered direct to your inbox each week, sign up for the THE Campus newsletter.
Standfirst
Effective technical support is a key component in ensuring instructors and students enjoy a positive learning experience in an activeflex format. Grayson Simmons explains where this support should be focused