View
Image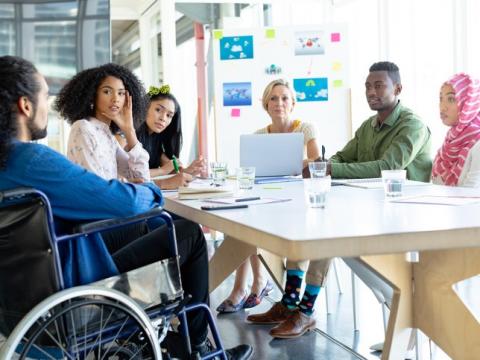 Main text
When we look out across our lecture theatres, or latterly to our Zoom class, chances are we see a very diverse group of individuals. We likely have learners from different countries, of different ages, with different abilities, life experiences, responsibilities and even languages. So how can we as educators best meet the needs of our disparate cohorts of learners? 
The universal design for learning (UDL) framework provides a very helpful starting point to anyone grappling with this question. UDL is a learner-centred set of principles that can help educators design more flexible and inclusive curricula. Informed by cognitive neuroscience, the UDL framework draws together many elements of what education research tells us about the types of strategies that support learning. The goal is to create "expert learners" who are self-directed and goal-oriented, who purposefully seek out the information they need, and use a range of strategies to optimise their academic performance.
Central to UDL is the engagement of three different brain networks involved in learning:
The affective network
The recognition network
The strategic network

The affective network relates to the "why" of learning. The focus is on strategies to attract and develop learners' interest and perseverance to help them reach their learning goals. The recognition network relates to the "what" of learning. The focus is on ways to support cognitive processing to aid comprehension. The strategic network relates to the "how" of learning. The focus is on strategies to help learners communicate and self-monitor their learning progress.
Adopting a UDL lens involves a shift in thinking from a focus on individual strengths and weaknesses to seeing differences as predictable, normal variability that occurs across a population. Designing with UDL in mind offers ways to plan and structure teaching and learning to accommodate this diversity and help all learners to develop the self-efficacy and self-regulation they need to be successful. It asks instructors to consider the life as well as the learning needs of students; to focus not only on content considerations but also to include strategies that can help learners develop good study habits.
It is important to note that UDL does not involve changing learning outcomes. Rather, it requires that educators are thoughtful in the decisions they make when they are planning and designing teaching to interrogate whether they can address those outcomes in ways that will help as many learners as possible to succeed. As UDL expert Eric Moore points out, it is based on the premise that what is necessary for some is generally good for everybody.
Getting started with UDL
Changing your teaching approach to incorporate UDL does not need to involve radical transformation. The widespread availability of digital technologies has created new opportunities to build flexibility into teaching and materials. There are numerous small steps you can take to start making your teaching and class materials more inclusive and perhaps begin the process of reimagining your teaching.
The Center for Applied Special Technology, the US-based non-profit education research organisation that created the UDL framework, maintains a website that hosts a range of helpful resources. These include a very useful clickable diagram that depicts the UDL framework and its associated brain networks and principles. Each principle is associated with three guidelines and each guideline is further broken down into a number of checkpoints. The checkpoints represent the specific strategies that can be adopted and practical suggestions for how they might be implemented. The checkpoints help anyone who is interested take some initial steps towards building greater inclusivity into their teaching.
While research on UDL and examples of implementation are more prevalent in first- and second-level education, the evidence base is growing in the higher education context as more and more higher education institutions are introduced to the UDL framework.  
At its core, UDL allows educators to build on the evidence-based principles that can support learning for diverse cohorts of students. In this way, we can continue to break down the unintended barriers to learning that exist for many.
Dara Cassidy is head of online education at RCSI University of Medicine and Health Sciences.
Standfirst
UDL offers ways to plan teaching and learning to accommodate diverse students and help learners develop the self-efficacy they need to be successful, says Dara Cassidy