View
Image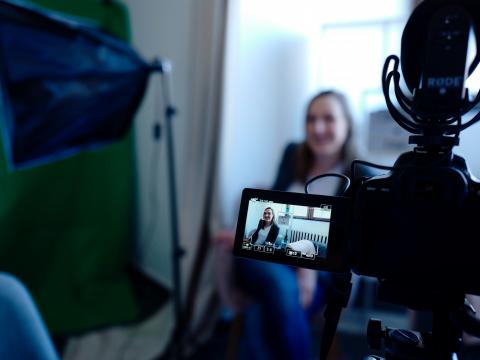 Main text
The sudden move from "face-to-face" teaching to online was not an easy transition for me.  
At first, I did not deal well with the social isolation associated with living alone, working from home and having no interaction with friends and colleagues but after a few months I started to adapt.  
Now, I sit at my computer every day and teach first-year students online, in real time, using our virtual learning environment (VLE), Blackboard. Like most lecturers, I have been forced to completely rethink my teaching style and strategy for the virtual world – here are my key lessons: 
Learn to talk to a blank screen 
I did not think that I would be able to do this because I love to be in the classroom with my students. I enjoy making eye contact with them and having conversations.  
But most of my students prefer not to switch on their video cameras during online lectures, because it reduces the quality of their internet connection. This is a significant problem in rural North Wales. Other students turn off their video camera because they are shy, or they prefer to remain anonymous. As lecturers we have to adapt to students' needs and find new ways to connect with them. 
Provide additional material and information  
I have added more supplementary material to my lecture slides, signposting students to extra reading materials, such as websites, newspaper articles, journal articles, Ted talks or video clips that enhance the lecture content.  
So, if a student misses a live lecture, they still have access to all the lecture material and the supplementary information from the video recording. 
Use polling during online lectures 
I use the polling function in Blackboard Collaborate during online lectures. Instead of asking students to answer questions verbally, I set up a quick poll at the beginning of the lecture, which runs for about three minutes.  
I use the polling feature to gauge the mood of the class, asking them yes or no questions such as, "Have you started writing your essay yet?" Or asking them multiple-choice questions such as, "How is everyone feeling today?" Options might be very good, good, or not good.  
These polls take very little time to administer and give instant feedback on how the students are doing. The results of the poll are displayed on the lecture screen for everyone to see, including those watching a recording. It is set up so only the number of respondents is visible, not their names.  
My students tell me they like this polling feature at the beginning of the lecture. Polling can also be used at any point during the lecture to gauge how well students understand new or difficult concepts.  
Use the chat function in your VLE 
The chat tool has proven a great way to enable student interaction and feedback during live sessions. Some lecturers only allow the students to use the chat function if they want to ask a question during the lecture, but I let students use it for other purposes, for example they can make comments about the lecture material.  
I have told my students that I cannot respond to all comments shown in the chat function during the lecture, but I sometimes go back after the lecture and check the comments, to see if there are any students who are confused or need extra support.
Give more detailed feedback on assignments 
I have made a conscious effort to give my students more detailed written feedback on their assignments via the VLE. Institutions with extensive experience in distance learning such as the Open University give students detailed feedback on assignments, because they rarely see their students in person. The rest of us need to do that now too.  
Students have told me they really appreciate the level of detail I provide, and consequently I have seen the standard of their writing improve from one assignment to the next within the same semester. 
Use email and video chats to support students from a distance 
Since we cannot meet in person, it has become vital to use all forms of communication available online. The closest thing we now have to face-to-face interaction is video-conferencing technology such as Microsoft Teams.  
I have spent more time interacting with students by email and Microsoft Teams this semester to support and reassure them because many are feeling isolated studying at home. They have not had the usual sociable first-year student experience. I use Teams to schedule meetings with students who have Personal Learning Support Plans or other disabilities and to support my personal tutees.  
Encourage students to support one another 
Because of the pandemic first-year students were forced to attend their "welcome week" online. These students have now attended online lectures together for more than three months, yet they have never met in person. While these students are keen to get back to campus, in the meantime they have found other ways to build a sense of community and peer support such as starting their own WhatsApp groups where they discuss assignments and offer each other advice.  
You can build strong connections online 
When teaching was abruptly moved online, I didn't think I would like using the new format, but I have come to enjoy it, finding new and innovative ways to connect with students digitally. 
Ironically, I feel more connected to this Covid-19 group of students than I have to other students I have taught in the past, yet I have never met any of them in person, which demonstrates how powerful online channels can be.
Julianne Law is a lecturer in healthcare sciences at Bangor University. 
Standfirst
The move to online education has required a major rethink of traditional teaching practices. Julianne Law offers insight on how she has adapted her 'lectures' for the digital classroom