View
Image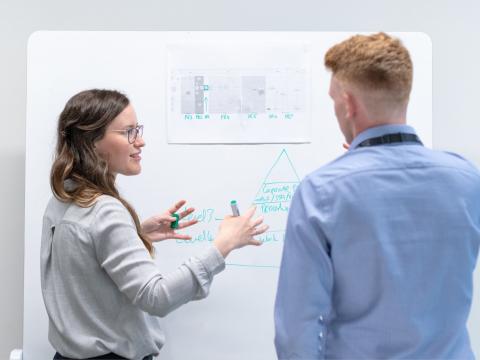 Summary
Flipping the traditional classroom teaching model with an adaptive active learning approach has proven highly effective at Arizona State University. Here instructor Susan Holecheck talks through how and why this works in practice, filmed as part of REMOTE, the connected faculty summit. The virtual event showcased best practice, techniques and tools for online teaching in higher education. If you're in a rush, browse the timeline below for the key topics covered and where in the video to find them. 
02:07 The impact of the adaptive active learning model on student outcomes at Arizona State University (ASU) 
03:42 How the ASU adaptive active online learning model works in practice 
07:51 The course structure 
08:12 The benefits of the "flipped model" of adaptive learning before class, then active learning in class 
10:25 Examples of active learning activities 
11:45 The challenge of moving 450 students online when Covid-19 struck 
14:10 Results of this rapid move online 
17:05 How do you plan to adapt the course for Covid longer term – will you go fully online or arrange socially distanced in-person teaching? 
20:16 How often do students interact with the adaptive courseware such as Cogbooks – is it weekly or sporadically? 
24:22 The importance of strong communication and keeping the students' teaching schedule the same 
26:34 How to prepare students for a flipped classroom model 
This video was produced by REMOTE, the connected faculty summit, hosted by Arizona State University.  
Standfirst
Susan Holecheck explains why flipping the traditional classroom teaching model with an adaptive active learning approach has proven so effective at Arizona State University