View
Image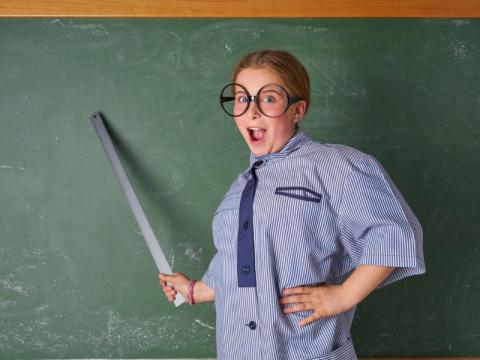 Summary
This video will cover:
00:52 How higher education activities can unfairly advantage some people and disadvantage others
01.21 Introducing the "revolving roles" method for creating equitable, participant-led activities
02.22 A five-step explanation of putting revolving roles into practice in seminars, based on a case study  
Transcript
Yo, it's Pablo. I'm Dr Pablo Dalby, the inclusive education tutor at UEA, the University of East Anglia.
Let's start with a riddle. Check out this household cleaning rota. There are three tasks: dishwashing, dusting, hoovering. Three days: yesterday, today, tomorrow. And three people: me, you and someone else. To do the cleaning, we'd rotate, taking turns on each task.  
Now riddle me this, what can we learn from the rota about creating inclusive, engaging activities in higher education? Anything from teaching and learning to staff meetings.  
If you're wondering what on earth I'm talking about, don't leave yet. Actually it's your turn to wash your dishes so you could get that done first. No, stick around, let me explain.
So higher education activities happen in particular ways. Do these ways not reflect a select group of people's relatively narrow set of needs and preferences? 
For example, lectures. They're led by a lecturer who talks to an audience that listens and learns. Well, in theory. Some might like learning this way, some don't. Doesn't this unfairly advantage some people but disadvantage others? That's one example, but similar problems exist more widely.
To help address this, here's a simple, adaptable method for creating equitable interactive participant-led activities. It is called revolving roles. My method challenges conventional roles of leader and participant. It gives participants a set of customisable roles to collectively lead activities.
Here are three reasons it's valuable: it can, one, use the diverse attributes that participants bring to the table; two, empower people to share responsibility for shaping their experience; and three, motivate and enable participants to develop a wider range of knowledge, skills and competencies. 
This is vital for 21st century success in higher education and beyond. The core idea of revolving roles is simple: a whole activity is divided into constituent tasks and participants take turns to do those tasks, working alone or in teams. 
There are many ways to adapt this for different contexts. Here's a brief case study of one way which I piloted at UEA for a series of seminars on a master's module in international development. I called it "spinning seminars". Here's a five-step breakdown of what we did:
One, at the start of the semester as the designated seminar organiser, I explained the new approach to students and gave them guidance, support and time to prepare.  
Two, there were four seminars each on a different topic, so we divided the 15 students into four task teams.
Three, we created four roles with associated tasks: presenters make a short presentation about the seminar topic based on the key readings assigned to all students; discussants then lead discussion-based activities following on from the presentation; summarisers synthesise the key take-home points from the presentation and discussions; and reflectors share written feedback for the other task teams after the seminar. Crucially, I provided suggestions for how to do the tasks but students were free to be creative.
Four, task teams revolved roles between seminars so that each team performs each role over the semester. We created a rota so it was clear to everyone what role they had in each seminar. 
Five, during seminars I participated with questions and comments but took a back seat as the students led the activities they designed.
Student evaluations and feedback were very positive. Here are examples of what they said: "It gives everyone a chance to speak, created an interesting multidimensional learning process helping to understand topics deeper and from other perspectives."
The revolving roles method enabled students to achieve a wide range of learning outcomes including developing critical and creative thinking, problem-solving, group facilitation and leadership competencies.
So let's sum up and revisit the riddle. You guessed it, the revolving roles method borrows the rotational structure from the house-cleaning rota. It's an ethos of shared transparent responsibility for collaborative participant leadership and learning. It embraces diverse needs and preferences and develops diverse attributes.
Perhaps it even challenges and changes some higher education power dynamics that unfairly advantage some people and disadvantage others. It's a simple, adaptable idea for creating inclusive, engaging participant led activities. Why not give it a try!
Pablo Dalby is a learning enhancement tutor (inclusive education) at the University of East Anglia.
If you found this interesting and want advice and insight from academics and university staff delivered directly to your inbox each week, sign up for the THE Campus newsletter.
Additional Links
To learn more about how the revolving roles method was used in the "spinning seminars" case study featured in the video, check out the article "From Flipping Lectures to Spinning Seminars" on pages 4 to 5 of UEA Learning Highlights.
Standfirst
'Revolving roles' is a simple, adaptable method for designing learning activities that challenge and change conventional 'leader' and 'participant' responsibilities, embrace students' diverse needs, and develop their unique attributes, as Pablo Dalby explains