View
Image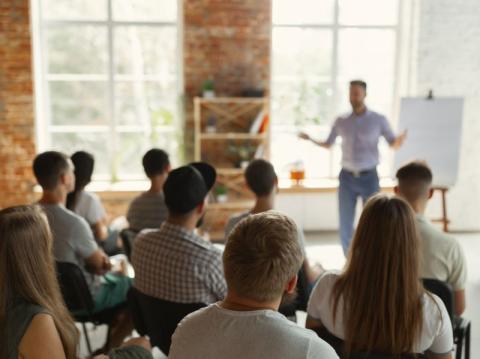 Main text
Starting a new role as a university lecturer after many years as a postdoctoral researcher in biomedicine and drug delivery was a significant shift in my career. Nearly 12 months on, I can say that although it has been a steep learning curve, it was an excellent change in career direction, and I am very happy that I took the leap.
But what was behind my decision to switch my career? With the onset of the pandemic and the end of yet another fixed-term research contract, I temporarily worked in an NHS Covid-19 diagnostic laboratory. This period gave me much-needed time to consider my career options. I had enjoyed many years supervising students in the lab, guiding them through their projects, and I had a wealth of experience with public engagement, having been a STEM ambassador. I began to wonder if research-led teaching would satisfy my appetite for staying in academia, provide me with a fulfilling role by supporting and teaching undergraduate students, and give me the potential to work towards the holy grail of academia, an indefinite faculty position.
An opportunity came up for an Academic Teaching and Scholarship (ATS) lectureship at the University of East Anglia in September 2021, and I was successful. This is a teaching-focused academic position. The knowledge that I was forging forward into teaching filled me with me hope and excitement and I was keen to get started.
I entered higher education teaching during a challenging and quickly evolving time. My experience of teaching up to this point had been laboratory based and in-person. These previous lab students carried out practical work and had not experienced the effects of the pandemic. In comparison, the students I met in my first year as an ATS lecturer had been through huge turbulence and uncertainty. The legacy of Covid meant that many of them had suffered multiple and complex difficulties; a disrupted A-level education, Covid-related illness (themselves and/or family members) and social isolation which triggered anxiety, depression, and in turn a lack of motivation for their university studies.
My teaching delivery was in-person, although mostly to a poorly attended lecture hall, and I used live-streaming and recording for those students unable to attend or choosing to learn online. Initially, this felt very alien, and I missed the highly interactive teaching I had encountered in the past. However, I was not on my own. Having joined a team of excellent and very supportive ATS members of faculty, some of whom are very experienced, I was able to gain invaluable advice about how to use teaching technologies effectively to engage the students while teaching online and this certainly improved the experience for them and me.
Over the months and teaching sessions that followed came more experience, and I felt my confidence in my delivery and use of the teaching technologies growing. I was enjoying being a lecturer. Students were beginning to recognise me and approaching me for help and guidance.
I learned that sometimes, it's the simple things that work best – I wanted to gain feedback about a series of seminars I had held and so provided the students with anonymous sticky notes headed "Good", "Bad" and "Suggestions". Having had minimal response on a previous digital feedback form, I hoped this method would be more successful and it was. The students provided honest and useful comments, many of which I used to improve teaching. The positive comments about my delivery of the content were reassuring to me that I was also doing a good job and confirmed that I had made the right decision.
Higher education teaching has provided me with a career that I can be as passionate about as I could be with research. It certainly doesn't diminish my curiosity of cutting-edge medical research; in fact, I follow it willingly to ensure my teaching content stays fresh and up to date. I will be starting the new academic year by virtually attending the Bioscience Education Summit held at Cardiff University – maybe I will see some of you there.
My advice for a first lectureship position:
Learn how to teach. Enrol on a higher education training course and attend workshops. I am one year into my MA in Higher Education Practice course, and I recently attended the "HUBS" (Heads of University Biosciences) workshop. Seize these opportunities to learn and create networks with your university teaching peers.
Be excited to teach but also understand that there will be challenges that can feel quite overwhelming to start with. Every time this has happened to me, I have coped better and with more success than I thought I could.
Go for that coffee break invite. An informal break with colleagues is a great way to get to know your team and it is often the time when conversation leads to solving problems or generating new ideas.
Ask to join in with practical lab classes. This creates the opportunity to speak with the students, find out their names and start that working relationship.
Don't feel pressurised. You may feel pressure to say "Yes" to various opportunities that come your way. It is of course great to help but be careful not to start juggling too many balls right at the start. Build up slowly.
Find out about the promotions system. Get advice from experienced staff to ensure that the teaching activities you are involved with are aligned with the outcomes needed for promotion.
Meet regularly with your mentor. During your first year, you may be partnered with an experienced member of staff who can act as a mentor. This gives you a chance to ask questions and discuss any problems and can be hugely beneficial.
Remember that everyone was a new lecturer once.  In my experience, colleagues are happy to help and support you.
Janine Wilkinson is a lecturer in biomedicine at the University of East Anglia.
If you found this interesting and want advice and insight from academics and university staff delivered direct to your inbox each week, sign up for the THE Campus newsletter.
Standfirst
The first year in a teaching role is challenging, particularly following the disruption caused by the pandemic, yet rewarding. Janine Wilkinson shares what she has learned